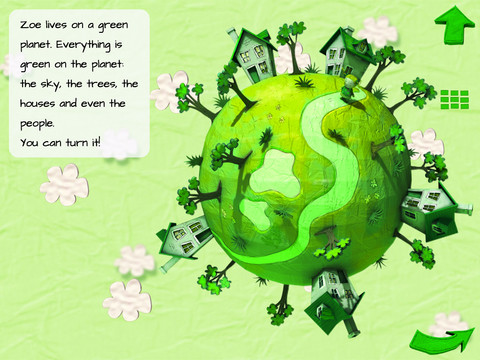 My family moved a lot when I was a kid, and they were usually cross-country moves that involved some serious culture shock.  For all intents and purposes it was like I was on a different planet.  Everything looked foreign, the accents were different, and I had to re-adjust to a new life.
Zoe's Green Planet HD would have been a perfect app for me had iPads existed during my childhood.  It's a sweet storybook app that helps to teach important lessons about diversity, new places, and saying goodbye.  Verbal narration guides players through the pages of fun illustrations, and 5 mini-games offer kids a break from the story.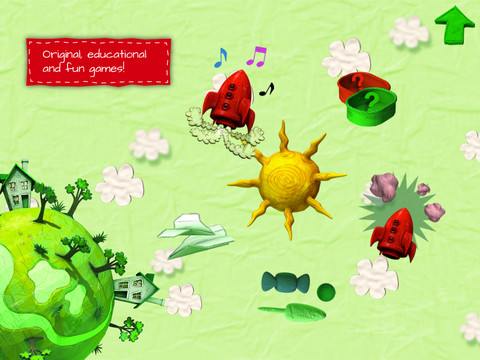 Zoe's world is green – her house, her pets, her parents – and that's all she knew until one day a red rocket arrived with a new red family.  Zoe learns that different isn't always bad and she and the new red girl become fast friends, but have to say goodbye when the red family returns to their own planet.  The mini-games address skills such as shape and color recognition and improving dexterity.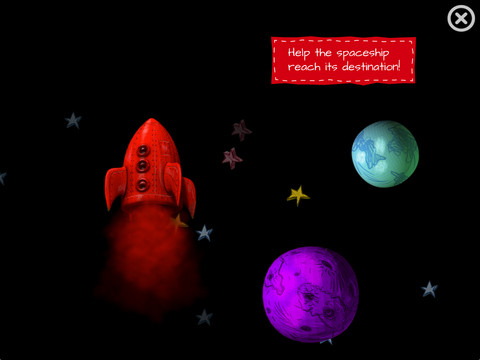 So far my son has only moved once when he was very young to he wouldn't be able to relate to Zoe.  But he and my 3-year-old both enjoyed the "green game" and my daughter asked me to do her hair like Zoe.  They both were able to play the games and listen to the story independently, which is one of our markers for an All Star app.
I can see this app being perfect for the young kids in a military family considering the changes they go throughout their childhoods.  At $2.99 it's nicely priced especially when you add up the educational value.  Change is hard for everyone, but especially for kids; let them know different isn't bad with Zoe's Green Planet.
Pros:
– Teaches young players a few different important life lessons
– No reading means that non-readers can really enjoy this app
– Fun mini-games enforce storyline and improve dexterity
Cons:
– None; this money-smart app is a great financial tool for little ones

Price: $2.99
Age: 2-6
Young players can learn a lot from Zoe, from acceptance to tolerance
Please help support iPadKids by downloading the game via the App Store icon below!