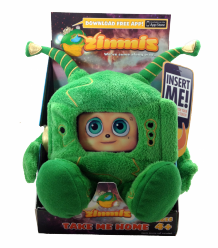 So you thought the app compatibility used by the makers of Furby was cool? Then you have to see this. Just released by Big Foot Toys comes Zimmiz, the plush aliens with a personalities all their own.
Zimmiz are, essentially, a plush alien body with an opening leading to a pocket where your iPod Touch or iPhone can be inserted after downloading the Zimmiz app. Your iPhone or iPod Touch serves as the face of this fun creature and app runs continuously while the toy is being played with. While it may seem kind of strange that the app makes up a substantial amount of the toy's playability, it allows the Zimmiz to be completely customizable and interactive, unlike any other app compatible toy on the market.
Designed for children ages 4 and up, Zimmiz can be customized to suit any preference. The app allows kids to change the color of Zimmiz eyes and skin as well as the shape of its nose, eyes, lips and signature birthmark. Zimmiz laugh when tickled, fall asleep when tired, blow bubbles with their  gum and even repeat what you say. Zimmiz can even read their special digital books to your child via the iPad. With over 300 in-app facial animations, its almost like Zimmiz have come to life. The plush Zimmiz body sports pose-able hands, arms, and antenna to allow for further customization.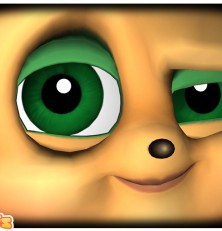 The Zimmiz app can be downloaded for free via the iTunes App Store, however, to be able to access all of Zimmiz features an upgrade can be downloaded for $0.99. Even though I don't generally like purchasing an app after initially purchasing a toy, the amount of interactivity that comes with the upgrade is well worth the price of the app.
Take a look at the official Zimmiz ad here!
Zimmiz are available now for $24.95 and can be purchased online directly via PlanetZimmi, or they can be found at Build-A-Bear online!
Source: http://www.planetzimmi.com/
Image Source: http://www.planetzimmi.com/