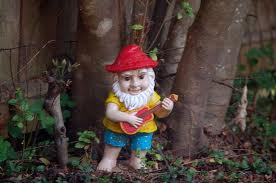 My husband and I are not yard people. He hates temperatures above 73, and I have a paralyzing fear of ants. We live in North Carolina, home of hundred-degree summers and killer fire ants. Yes, we were actually sober when we decided to move here a year ago.
The house we bought has a pretty good-sized fenced-in back yard, but we haven't really done much with it in the year we've lived here. Well, actually, that's not true. We've made it into a pretty cruddy back yard. When we moved in, the back yard was overflowing with beautiful rose bushes. The previous owner was quite proud of them and even gave me a lesson in rose care during one of our walk-throughs. He would probably have a heart attack if he knew we ripped them all out and put them on the side of the road for trash pick-up. Sorry, but thorny bushes and little kids just don't mix.
We've also added two big dogs to the mix. Two big dogs, lots of poop, two adults who don't like to go outside to pick up poop, and no grass, thus a big yard of muddy poop. Sounds great, eh?
Well, this summer is going to be different. We are going to build a small fenced-in area within our yard just for the dogs. The ground will be covered with pea gravel on top of sand, thus no more trampled grass and mud pits to worry about. Poop pick-up time should be severely reduced, as well.
The rest of the yard will be for the kids. I have grand plans…a vegetable garden, fairy garden, horseshoe pit, outdoor bowling alley, chalkboard, hopscotch, and whatever else our imagination (and very limited budget) can come up with.
My girls are only 2 and 5, so it's hard for them to look at this wasteland of a back yard in front of them and visualize the awesomeness I have planned. To help them out, I took some pictures of our back yard with the iPad and then used Doodle Buddy to roughly draw in some of the yard planning I had imagined.
Here's one of the before pics: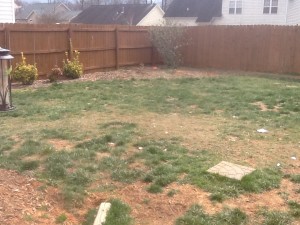 Here's one of the pics with my additions: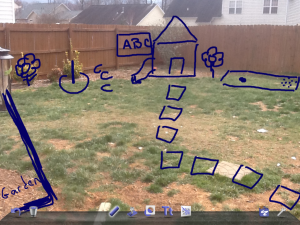 Obviously I'm no artist, but I could tell this really helped my girls begin to see the potential for some serious fun in our yard this summer. They both started to get very excited….so excited that they made their own additions to the above picture while they had the iPad to themselves.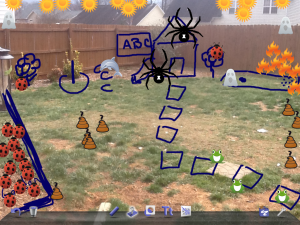 Without a doubt, we are going to have the most exciting back yard in all of North Carolina!