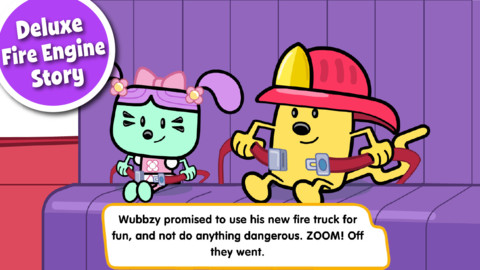 Big, red, shiny fire trucks are like the Holy Grail of childhood.  Every time we hear a siren while we hear a siren time actually stops while my children press their jelly-smeared faces against the car window, hoping to catch a glimpse of the Sasquatch of rescue vehicles.  They're not yet at the point where they can fully understand that fire is actually pretty scary but it's also still important to teach them all about fire safety.
Wubbzy's Fire Engine Adventure app has come to the rescue!  Wubbzy is the lovable bent-tailed star of his own animated series on the children's channel Nick Jr. and the little yellow dude (who teaches us that different doesn't mean bad) is back to teach all about fire safety.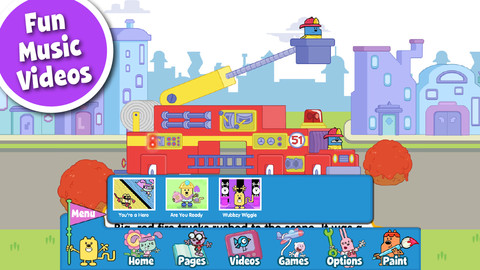 Three different modes and a firehouse full of features make this storybook app fun and educational.  Players can either have the story read out loud in a clear narrated voice, they can skip the narration but hear each word as it's tapped, or go straight to the Big Leagues and read the book without any spoken help.  In all three modes the pictures are interactive, with bouncing meatballs and goldfish in a fire truck.  Hitting the menu button brings up even more options, live videos, games, and coloring pages.
When we first  played this app it felt like there was a lot going on, which is the case – but in a good way.  The game play was a little too advanced for my 2-year-old but my oldest – who is 5 – really had a blast playing this app.  Of course he learned about fire safety; at the end of the story Wubbzy gave me some questions to ask him about the story.  Then Sparky the official fire safety mascot offered some real fire safety tips.  These two sections of the story meant that he had to engage me in game play, but that's okay because it began an important dialogue between us about making our own fire escape plan.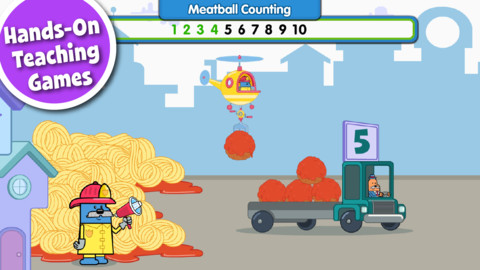 Probably the best part of this app is that the developers at Cupcake Digital designed there whole line of Wubbzy apps using Common Core State Standards, a universal set of goals established to help school-aged kids in 47 states prepare for college, careers, and a global economy.  As a parent this is duly impressive because my kids think they're having fun but I know they're actually learning something that they'll use in "real life".
For $1.99 you're getting a bargain of a download when you consider the content in this app and the median price for comparable storybook apps is almost twice the amount of Wubbzy's Fire Engine Adventure.  We at iPad Kids made this app an All Star for its well-rounded approach to learning valuable life skills and entertaining game play with a easily navigable user interface.
Pros:
– Plenty of activities to keep your little firefighter busy
– Learn important fire safety tips from a bendy-tailed buddy
– Game play promotes fundamental childhood skills
Cons:
– None; the developers made sure this was an enjoyable and inclusive app