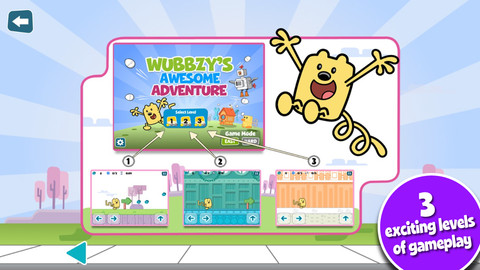 When it comes to playing kids' apps to review them, my own children are always the first in line for quality assurance.  It only makes sense, though, to hand over the iPad to the apps' target demographics, right?  Watching them play also gives me a birds-eye view as a parent to see how they react to and learn from both educational and not-so-educational apps.
However, we've been "playing" some pretty intense early-learning apps lately and Wubbzy's Awesome Adventure came at just the right time.  The arcade-style, straightforward game play and fun characters are just what they needed as a little break from some serious skill-building.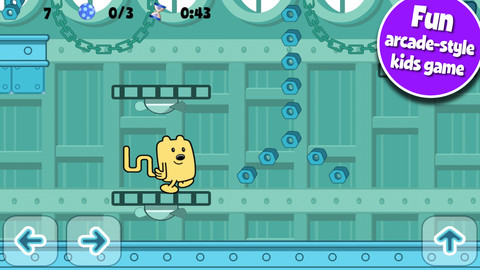 The basic premise of the game is pretty simple: Wubbzy's friend Widget made a robot that is now on the fritz.  Ole Bendy-Tail needs to travel through three levels to collect points in the form of kickety-kick balls and bolts.  Simply move left or right, or jump, avoiding obstacles like small duck robots or falling eggs.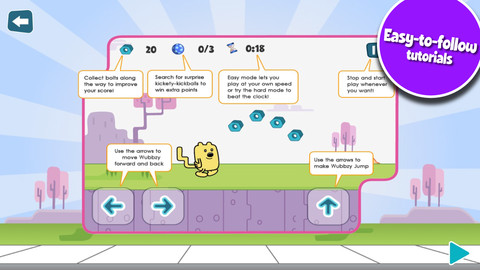 My guinea pigs kids truly had fun playing this.  They're both in the 2-5 age range and it's hard finding an app they can both appreciate, but Wubbzy's Awesome Adventure did the trick.  Because their hands are both too small to hold the iPad and play we moved the control arrows so that the device can lay flat while they navigate.  My son, who's 5, loved the "hard" levels where he had to race against a time clock to collect balls and bolts.
If you're looking for a preschool-level, age-appropriate game, than look no further.  At $1.99 this is the perfect app to download if your family plays some learning-dense apps.  The ease of play, customizable game controls, and absence of in-app purchases or ads make Wubbzy's Awesome Adventure an All Star app.
Pros:
– Arcade-style game that's fun and easy
– Some (easy!) reading required for (easy-to-follow!) tutorials
– Game play controls can be moved and customized
Cons:
– None; this was a fun departure from a steady stream of edu-apps

Price: 1.99
Age: 3-7
Your little one will love playing Little Digits to help learn to count
Please help support iPadKids by downloading the game via the App Store icon below!