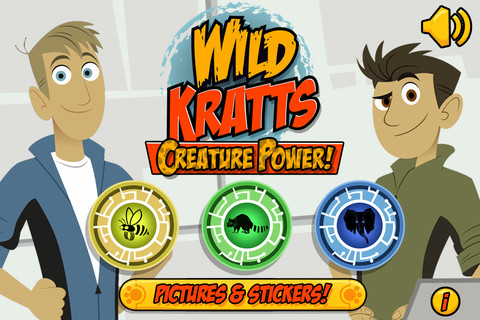 I write the following sentence with all the love I have in my heart: Sometimes my kids are like animals.  My favorite analogy (and I'm sure it has been used in a previous review) is comparing my two children to a couple of drunk monkeys; loud, rambunctious, and possessing the supernatural ability to climb pretty much any structure.  And that's on a good day.  Rhinos come to mind when thinking about the not-so-good days…
Wild Kratts Creature Power harnesses all of that animal energy and ball it up into an informative and action-packed app.  Developed by the Kratt brothers – the resident nature experts of the PBS channel – this game combines fun facts and easy game play to help teach your little animals all about the natural world around us.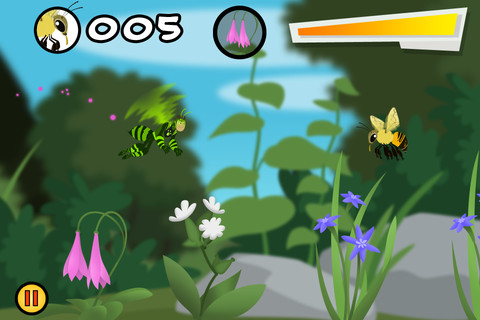 There are three different levels played from the vantage points of as many members of the animal kingdom.  The bee level instructed us on how to fly from flower to flower, pollinating as we go and increasing the flora around us.  As an elephant we learned how we can keep our ginormous (yes, that's a word) bodies cool and clean in the African savannah.  Finally, the kids pulled a little bit of a role reversal as a mom raccoon feeding and caring for her babies.  As we played each level together the Kratt brothers' narration supplied us with copious creature clues.  We also learned stickers and had a good laugh at the pictures we took that put our heads on a Creature Power Suit.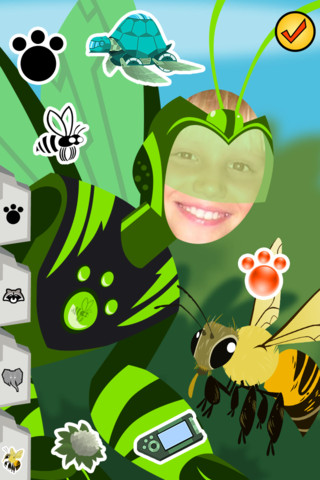 Both kids had a blast playing the game and spoken narration helped my non-readers to understand the basic directions of game play.  The biggest disappointment was playing this as an iPhone app on the iPad.  Currently there isn't an available version for the iPad, which means the picture is grainy when enlarged to fit the device's screen.  For $1.99 I would expect that the app would be universal across the different Apple technology.  The game is really fun though, and jam-packed with some really interesting info on the natural world around us.  And I'm not talking about your kids.
Pros:
– The Kratt brothers teach about wildlife and nature
– Action is non-stop in this fast-paced game
– Animal lovers will enjoy the fun facts that are a part of the adventures
Cons:
– The only version available is formatted for iPhone – a little disappointing for iPad users

Price: $2.99
Age: 6+
Big words and some required manual dexterity make this game perfect for the school-aged crowd
Please help support iPadKids by downloading the game via the App Store icon below!