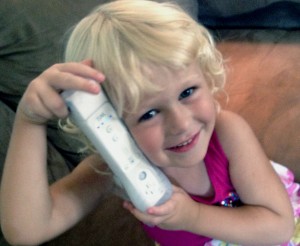 I have decided, as of like 5 minutes ago, to no longer limit my children's time with the iPad or Wii.
I can hear the gasps and tsk-tsk-tsks from 99% of the audience.
What brought this on, you may ask? Well, my 3-year-old is going through a Wii phase. She eats, sleeps, and breathes the Wii. Ask her at the end of the day what her favorite part of that day was, and she will tell you it was playing Wii, even if she didn't actually get the opportunity to play Wii that day; the Wii is always on her mind. Never mind if she saw a triple rainbow or was given a lollipop at the pharmacy, she just wants to brag about beating the bad guy in her Kirby game.
About an hour ago, I made her turn the Wii off. Surprisingly, there were no tears; she simply retrieved the iPad and started doing her iPad thang. Something bristled in me. There was that voice, that annoying voice telling me that she had exceeded her screen time, that playing with the iPad, after having spent the morning playing Wii, would somehow damage her developmentally or psychologically. I mentally braced myself for the tantrum as I gently said to my daughter, "Sweetie, you need to put the iPad away and do something else." She calmly looked up at me and said, "Why? I want to play my game. I'm good at this!"
And I had no answer.
So I got to thinking…and my thinking process is not linear or organized, so hold on to your hats and try to keep up…but what's the big deal? If she were reading books for 10 hours a day, would I try to limit her book-reading time? If the piano in the living room suddenly caught her attention and she decided to spend all day learning to play it, would I stop her after a couple hours? As a 3-year-old, very little of her world is in her control. Someone else makes her meals, picks her clothes, decides when she can leave the house and where she goes; shouldn't she have the opportunity to pick how she spends her free time? What is so wrong with an activity that improves her problem-solving skills, rewards her with positive reinforcement, builds on her strengths and works on her weaknesses, teaches her to work as a team with other players, and challenges and improves her balance and hand-eye coordination? Shouldn't I be encouraging an activity that instills a sense of pride in her accomplishments? My girls absolutely radiate and glow pride when they conquer the Wii bad guys or go up a level in an iPad game. They do happy dances and want to tell everyone they know about their special skills and accomplishments. What good, really good reason do I have to limit this?
I was just interrupted in my writing by my 5-year-old daughter, who, having just returned from running an errand with Daddy, asked me hesitantly if she and her younger sister could play Wii. My reply of "Absolutely!" was at first met with wide-eyed surprised, followed quickly by squeals of joy and excited discussions of strategy.
Something I thought earlier must have made sense to that annoying inner voice because I heard no objections or dire warnings inside my head.
Then again, it's hard to hear anything over the high-pitched squeals of victory going on downstairs. The bad guy must have bit it. That's my girls!
Every family is different; we would love to hear about your experiences with screen time limits in the comments section.