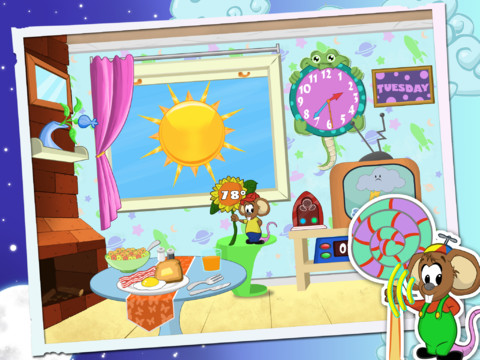 Ever show something to your kids that you instantly regret showing them?  In our house it happens to be the Weather Channel.  One summer afternoon during a particularly strong thunderstorm, I brought up the live feed for the channel on my laptop and watched as my 5-year-old's eyes grew large and glassy.  I knew at that moment we would be watching the Weather Channel for a significant portion of every day after that.
Because my child hasn't yet been to school for meteorology and I like having control over my own television, there's the new app, Weather and Clock for Kids.  A silly little mouse offers current weather and time information by speaking (squeaking?) the stats out loud.  Within the scene – the mouse's house – there are interactive surprises.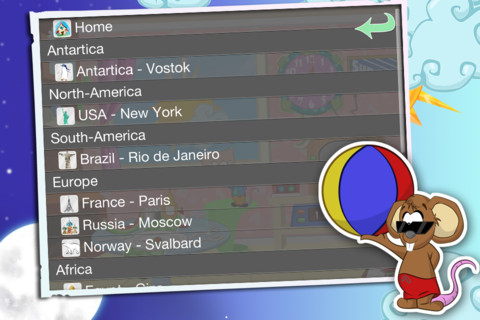 Both a digital and analog clock display the time for the current location of the iPad, but it can also be set for a handful of locations around the world.  A framed picture displays the day of the week, and the TV shows pictures of the weather forecast for the next seven days.
Of course, it's not enough for kids to just find out the weather or time, they can also click on the fireplace to warm the place up.  If it gets too warm the window opens to show off the night sky or the sunrise, depending on the time.  Hungry?  Nibble on the cheese and salad sitting on the table in the middle of the room.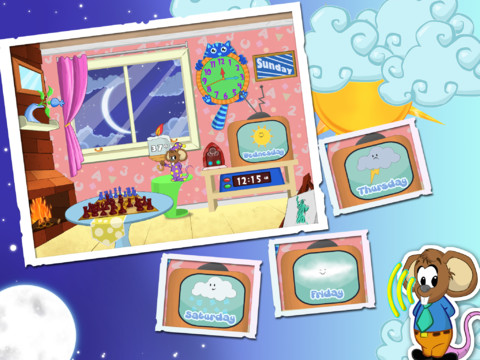 Needless to say my son loves this app and checks it throughout the day to inform me that I should either ditch the jacket or bundle up.  He can use it without my help and he loves the little mouse noises in the background.  It's not a game, it's just an informative app – but that's okay with him.  I've found that sometimes the best approach is the most straightforward, and this weather and clock app is a perfect example.
The download price of $1.99 is a small price to pay compared to meteorology school tuition.  There are handfuls of weather and clock apps on the iTunes market but this one is perfect for the younger crowd.  It's easy to use, fun to explore, and offers some help on skills such as telling time and the science of weather – and all of that make it an iPad Kids All Star.
Pros:
– Gives real-time reports on current weather conditions and time
– Features an adorable scene starring a funny little mouse
– Interactive elements will delight amateur meteorologists
Cons:
– None; with this no-frills app is perfect for young weather-watchers

Price: $1.99
Age: 2+
This app will bring out the weatherman (or weatherwoman) in your little one
Please help support iPadKids by downloading the game via the App Store icon below!