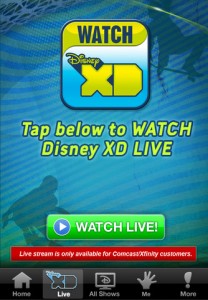 Some of Disney's most popular animated series for school-age kids go mobile with this on-demand app!
Price: FREE
Age: 6-14
The programming content is aimed at and most appropriate for the pre-'tween crowd.
Pros:
– On-demand access to full Disney episodes
– Easy to navigate interface
– Awesome troubleshooting and help menus

Cons:
– You must be a Comcast/Xfinity customer to watch live streaming Disney programming
– Internet access is required to watch all content
Disney XD is age-specific programming created to target the 6-14-year-old boy viewers who often get lost in the Disney channel shuffle. While they have established a strong toddler/preschooler demographic and created fans in the 'tween and young teen group, XD appeals to the gap in between the two. With mostly animated shows, the network also airs made-for-TV movies and has quickly become hugely popular.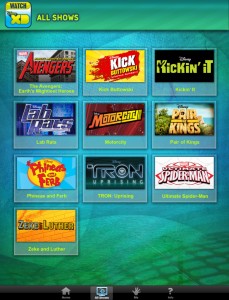 WATCH Disney XD works in the same way as its Disney Junior and Disney Channel counterparts, offering full episodes of titles such as TRON Uprising, Phineas and Ferb, and Motorcity. Filtered by recent TV airing dates and popularity, one tap starts the video that can be closed captioned.
Unfortunately, while the app allows for live streaming of Disney XD, I couldn't access it as that feature is limited to Comcast/Xfinity customers. If you're unsure of your provider, there is a website provided during the app install process to verify if you are in one of the geographical areas that allow access to live streaming. This is a huge fail; Disney would be smart to expand its live streaming options to everyone who pays to include Disney in their television package.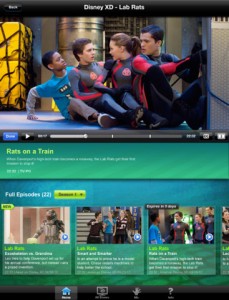 Also, I couldn't get the episodes without Wi-Fi access as my iPad isn't 3G or 4G capable. This kind of defeats the purpose of the mobile aspect of the app but the upside is that most places we go offer free Wi-Fi.
Disney should really take this app back to the drawing board, along with the other WATCH Disney apps that I also downloaded (see WATCH Disney Junior and WATCH Disney Channel reviews). While the app is free it's not worth the frustration of not being able to watch the live streaming and not having access to videos without WiFi.
Details:
– Watch Disney XD TV Shows such as Phineas and Ferb, Lab Rats, Motorcity, TRON Uprising, and Kickin' It
– Available on iPhone, iPad, iPod touch, and computer
– Didn't finish your episode? Pick up where you left off.
– Closed captioning available on select shows/episodes
Please help support iPadKids by downloading the game via the App Store icon below!