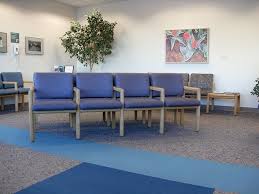 Waiting. Ugh. It's hard to wait, to just sit in a room knowing there are a gazillion other things you could be doing. For kids, though, waiting is 100 times worse. A 5-minute wait for us adults seems likes a 30-minute wait for the under-10 crowd. Depending on how the children deal with this slow-motion passing of time, that 5-minute wait can very quickly seem like an hour for mom or dad…or the poor folks sharing the waiting room with you and your restless children.
My 2 daughters and I were recently trapped in a waiting room. I wasn't too concerned, however, because we had our family iPad with us. Imagine my surprise/dismay/panic when they chose that moment to grow bored with every last app installed on the iPad.
Now, it's not my habit to download a new app every time my children get bored; however, habits can be modified when trapped in small rooms with strangers. Since haircuts had been a recent topic of discussion between us girls, with both of them wanting to get their hair cut shorter, I decided to purchase a hairstyle app that allowed me to upload pictures of my daughters and try on different styles.
For less than $5, I purchased Hairstyle Makeover.  There are many of these kinds of apps available. I chose this one simply because it was on the top of my search results and I was in a hurry to pick one and start using it. I don't intend to get into an in-depth app review; I simply want to share my experiences with this kind of app in general. Overall impression: An awesome way to pass time with the kiddos!
First, you have the fun involved with posing for a picture to use for upload. That task right there takes up to 5 minutes per child. Once a picture is uploaded, the fun really starts. We tried on everything from short to long to silly hairstyles. My white-blonde girls were brunettes then redheads, sometimes even blue. Here are a few of our hairstyles, modeled by my 5-year-old: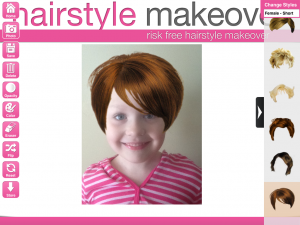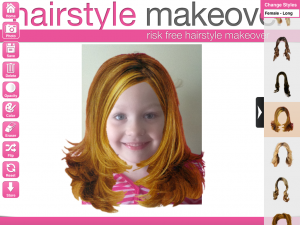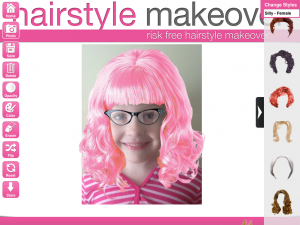 Oh, the giggles!  Hands down, we were having the most fun in that waiting room. So much fun, in fact, that we were all disappointed when our turn came and we had to put the iPad away.
So, if you ever find yourself in need of a new and amusing app to entertain the kiddos, try something along the lines of a makeover app, whether it be hairstyles, clothing, or makeup. My kids gave our waiting-room app 2 thumbs up, and better yet, I'm looking forward to playing with it on my own!