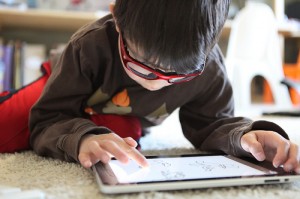 I'll be the first mom to admit, I bring the iPad mostly everywhere we go. The owners of our first generation iPad are my sons because I am now the proud owner of the mini, which I love for its mobility. We bring one or the other to doctor appointments, therapy appointments, when we need to do some home school review or work, and in the car. Like any other family, we have educational apps, but we also have Angry Birds, Toca Kitchen Monsters, and Fix it Felix, Jr. I mean, who doesn't?
My sons both love to play the games, like any other 7 or 8-year old boy. I always make sure some of our games help with some aspect of learning, be it, fine motor skills, communication, or hand-eye coordination.
Building Fine Motor Skills and Hand Eye Coordination
My autistic son loves playing Angry Birds. He loves the different versions and it does help him improve his fine motor skills by aiming and shooting at targets. He also has to keep his hand steady and still while playing and that also helps him practice his fine motor skills. Building fine motor skills is essential in helping kids learn how to function, how to tie shoes, how to brush teeth, eat, use pencils correctly, and much more. A lot of children with sensory issues, like my sons, benefit greatly from these types of exercises.
We discovered Kids Puzzle Free by Web VV GMbH a free app that includes 7 different puzzles with three different levels. You can choose different puzzle sizes and either 12, 48, or 108 puzzle pieces. This is great for practicing fine motor skills and hand-eye coordination because kids have to drag and drop the piece of puzzle in the correct place.
My son loves mazes. We found Dino Maze, a free app by Adi Raz. There are 30 mazes with three levels of difficulty and the app allows you to create your own maze. Mazes are a great way for kids to practice steady, straight line-making. They also have to think about which direction they should go to get to the end of the maze.
Communication
Most of the Toca Boca apps are great for communication. We use the Toca House app to practice communication. He is familiar with our own house, so we can ask my son about the boy cleaning the window, "What is he doing? Does he need a broom or a bucket for that?" We use each of the app's scenarios to build his verbs, vocabulary, and conversation skills.
We are working on negation and opposites, where we ask, "did the monkey clean the floor?" He laughs at us and corrects us. Or for negation practice, we'll ask, "that's not a pogo stick is it?" When it's really a broom. We love the Toca Kitchen Monsters, too, because we have to choose, prepare, and feed a food item to hungry monsters. We practice talking about what they eat and how we should prepare it.
Now, my son loves Fix it Felix, Jr. and Wreck it Ralph, after seeing the movie. He also loves car racing games. The only thing he's learning from these is to have fun!
Photo courtesy of:  aperturismo