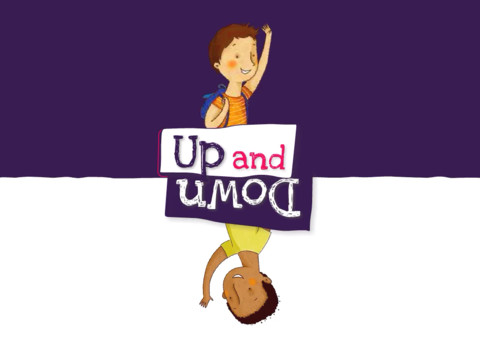 My kids constantly fight over who uses the iPad.  Once they even had the nerve to ask me if we could buy a second device so they didn't have to share.  "Do you realize," I asked, "that there are kids in this world who don't even have ONE iPad??"  I swear I could have stubbed my toe on the jaws resting on the floor.
Up & Down is the perfect app to help prove my point that my kids are pretty darn lucky.  It's a story about the everyday routines of two children on opposite ends of the spectrum.  The pictures that accompany the storyline illustrate the idea that while both kids go to school or have a family meal, it means very different things.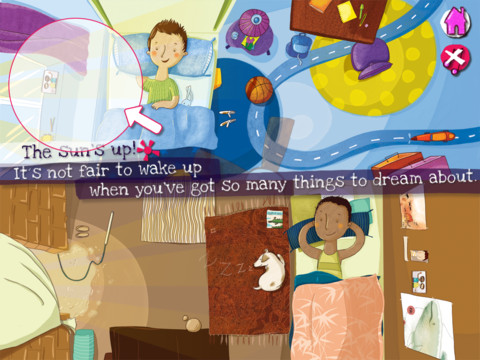 Each page is divided in two sections with the top being similar to they way modern American life is, and the bottom showing life for kids in the African desert.  Players are encouraged to interact with the app by finding the same item in each "world" and tapping on it.  At the end of the story there are two additional games – a "crazy picture" puzzle game and 4 coloring pages.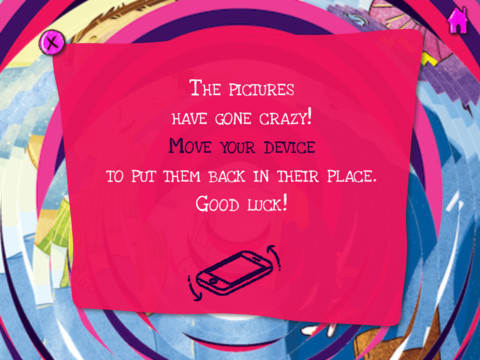 After begrudgingly accepting the fact that we are a one-iPad family, my 3- and 5-year-old settled in to read this lovely story.  They had a great time finding what was the same in the two scenes.  We also had some great discussions about the things in our life that we enjoy, things that children in other countries don't have.  The app helped me point out that the kids without these things are still happy.
Proceeds from Up & Down go to a program in the Saharan desert called Bubisher, which is a traveling book bus for the children of the area.  Overall it's a perfect app to help teach your kids about other corners of the world, and it's bound to make them much more appreciative of the little luxuries in their lives.
Pros:
– Opens the door for dialogue about world traditions
– Teaches kiddos about things in their lives they may take for granted
– Shows that families around the globe may not be so different
Cons:
– None; it's a worldly, eye-opening app

Price: FREE (for a limited time)
Age: 4+
Learn how kids live on the other side of the world
Please help support iPadKids by downloading the game via the App Store icon below!