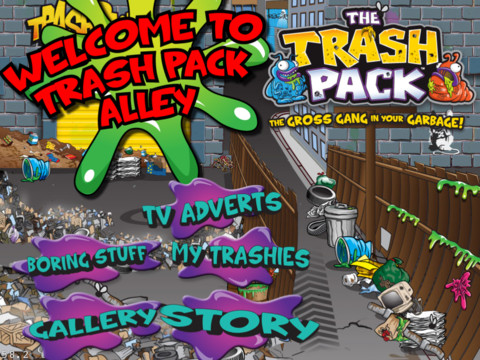 Back when I was young – during the roaring '80s – I walked to school through the snow, uphill both ways, wearing nothing but a toga and some duct tape for shoes.  Okay, that didn't really happen, but please don't tell my kids because it's the only way I can get them up in time for preschool.  Imagine what I'll have to make up when they start high school…
We certainly didn't have the luxury of an iPad when we were kids, but we did have really cool collector's items like Garbage Pail Kids; stickers and trading cards depicting the dark side of baby dolls.  They were stinky, deformed, and just plain yucky, and we children of the '80s coveted them as if they were hair crimpers or Swatch watches.  Well, folks, I hate to be the one to point this out, but the more things change the more they stay the same.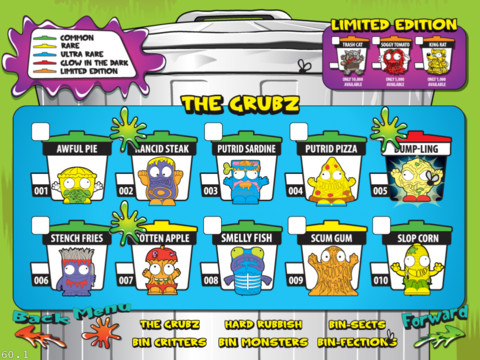 I present for your consideration the Australian-based toy line Trash Pack, small figurines that take the shape of, well, your trash.  With clever names such as Mucky Maggot and Putrid Pizza, these highly collectible Trashies are growing in popularity here in the US, and Trash Pack 1 (the app) has been released just in time.  There are several modes to choose, like the Gallery that features Trashies portraits that you can save to your iPad, or a virtual checklist to keep track of the different Trashies you accumulate.
The storybook mode is the most interactive, and the mode that could stand alone for those players who have yet to catch the Trash Pack craze.  Featuring full narration and interactivity by tapping different areas of each page, the story made my preschooler son literally roll off the couch in a fit of giggles.  He's at the age where he's fascinated by all things icky and the story didn't disappoint.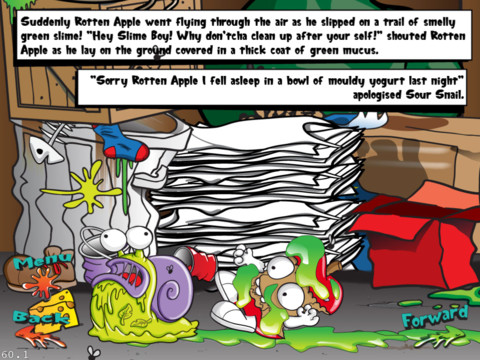 I try to limit the kids' exposure to the raunchy, so I had to remind him that while passing gas may sound funny, it's only so in the story and shouldn't be something that he's regularly sharing with the world.  Die-hard Trash Pack fans won't blink at paying $2.99 for this companion app, but those who have never heard of this generation's gross-out toys will probably want to skip it.
Details:
– Multiple reading modes—Read to Me, Read it Myself
– 10 colourful Posters to use as wallpapers on your iPad
– Word-for-word narration, sound effects, and original music
– Tap characters to hear them say gross things and even grosser sounds
Pros:
– Great companion app to the Australian-based toy line Trashies
– Storybook mode offers narration for non-readers
– Graphics are gross but definitely fun and kooky
Cons:
– Anyone outside of Australia might be a little confused about the premise of this app
– Some of the sound effects and vocab are actually legitimately gross and may not be appropriate for some households

Price: $2.99
Age: 7+
No need to hold your nose around this trash – being gross has never been so much fun!
Please help support iPadKids by downloading the game via the App Store icon below!