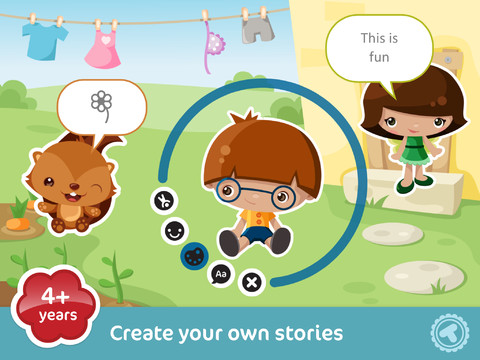 The first question I ask when my kids show me one of their drawings is, "Tell me all about it!"  What follows is usually a twenty-minute tale about ballerina mice or transforming hero-robots.  They like telling stories almost as much as they enjoy when I read stories.
When I introduced them to the Toonia Storymaker app they were instantly intrigued.  Toonia combines the ease of a sticker-book app with a multi-page layout and doesn't require reading or writing (but it is an option).  Players create different scenes and can then tell a story about their artwork as the slideshow of pages automatically progresses.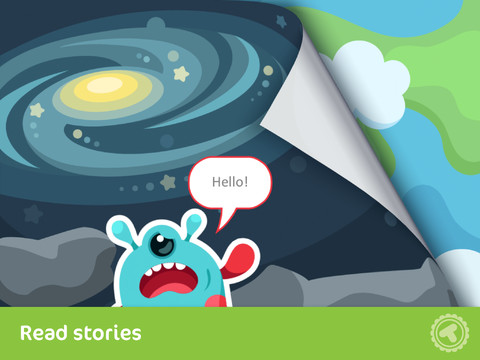 Each scene – or "world" – is something that a young child would be familiar with, like the beach or the park.  The objects that can be added are also taken straight from every day life, and each can be manipulated in size or position.  Word bubbles can be added for written narrative, and even emotions can be personalized.  There are also little tidbits about the worlds and how they relate to the player's life.
After playing with Toonia my kids – 2 and 5 – were really excited about the possibilities of telling their own stories with their own creations.  My oldest quickly got a hang of the different options to customize each sticker placed on the scene.  My youngest didn't quite get that far but she did have a lot to say about the hearts and teddy bears she added to the Valentine's scene.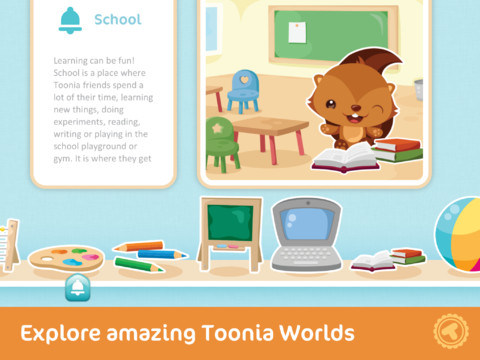 Toonia covers a multitude of early learning bases.  Besides imaginative play and story-telling the app also helps develop hand-eye coordination, fine motor skills, and communication.  It's a particularly great app to help in special needs situations as it encourages non-verbal children to express themselves either in a verbal or visual way.  It can also help to identify emotions in children who have difficulty doing so.
For $2.99 this app packs a real punch.  From budding journalists to thriving raconteurs Toonia Storymaker is a fun addition to your iPad library.  Added to that, the added bonus of being easy to use and great for special needs players makes it an iPad Kids All Star app.
Pros:
– Game play doesn't require reading or writing skills
– Encourages story-telling and imaginative play
– Great platform for increasing real-time interaction
Cons:
– None; this is a whimsical and comprehensive story-telling app

Price: $5.99
Age: 4+
Oh, the stories your little one will tell with the Toonia Storymaker app!
Please help support iPadKids by downloading the game via the App Store icon below!