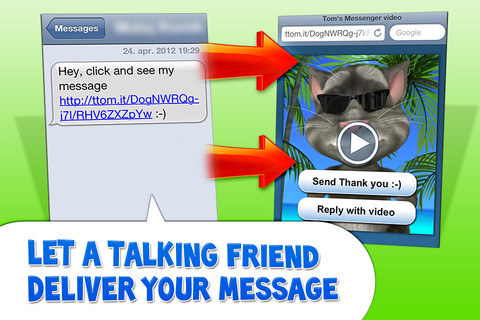 If you like talking animal apps, then you will love the Free App Of The Day – Tom's Messenger.  Now Tom, Ben, and the whole crew can deliver your messages for you! (Just watch out for in-app purchases)
iTunes Description:
Get the funniest messaging app ever!

Send awesome video messages to your friends & family as one of the Talking Friends characters. You can choose to be Talking Tom, Ben, Angela, Gina, Pierre or Ginger.

Record a short video and then send it as a text message (SMS), Facebook message, KakaoTalk message etc.

You can also share your video by posting it on Facebook or Twitter.

This app is perfect for sending messages you would otherwise be too shy to say in person, like apologize to someone, profess love or sing a song… You can even create your own funny video story.

Tom's Messenger is by far the easiest and fastest way to send a message… You don't even need to type!

★★★ CUSTOMIZE YOUR MESSAGES ★★★
✔ Choose the talking friend you want to be (Tom, Ben, Angela, Gina, Pierre or Ginger.).
✔ Make your own background photo or choose one of the beautifully designed cartoon backgrounds.
✔ Equip your characters with accessories like hats, sunglasses, microphones…

★★★ HOW TO USE ★★★
✔ Select the character you want to send the message with.
✔ Shop & equip your characters up with accessories.
✔ Select a background or use your own photo.
✔ Record a message by pressing the big red camera button.
✔ Send or Share the video with your friends, family and loved ones.

★★★ IMPORTANT ★★★
✔ Some characters are only available as an in-app purchase.
✔ Accessories are available if you purchase them with gold coins.
✔ You are rewarded with gold coins if you use the app frequently (every 24 hours).