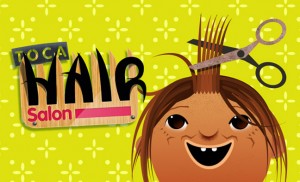 Another award-winning "digital toy" from Toca Boca developers, this playful app brings the salon into the digital world. Vidal Sassoon, your days are numbered!
Price: $1.99
Age: 3+
While this app is perfect for younger kids, it seems that parents love to play too!

Pros:
– Style the lifelike hair on one of 6 unique characters any way you want
– Like with other Toca apps, there are no rules, points, or time limits
– The visual elements are fun and bright and the sound effects will make players of any age giggle

Cons:
– None; this is another thoughtful and well-planned app from Toca Boca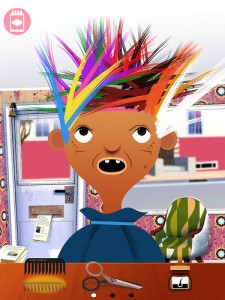 The iPad hadn't yet been invented when I was a kid, so I had to play with actual dolls – namely the ever-popular Barbie doll. (I also had to walk to school without shoes on, in the snow, and uphill both ways, but that's a story for another day…) The problem that I found with the Barbies of my generation was that they all looked alike – long blonde hair, blue eyes, the works.
One way to remedy that? Channel my inner Paul Mitchell and chop off those flaxen strands so that each of my dozens of Barbies had a different yet still stylish coif.  Oh, and let me just mention that I was a child of the 80s, so there were quite a few Barbie Pat Benatars and Debbie Gibsons, which makes me shudder to think about.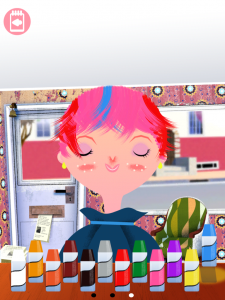 Toca Hair Salon was probably invented by someone a lot like me, whose parents ranted and raved about the price of Barbie dolls and the depreciation of value after a simple trim and taking good care of your belongings. None of the six characters I had to choose from are even remotely similar as several of them are actually animals in desperate need of a new 'do.
Once I had selected and my client was seated, the destiny of their hair was in my hands. I could comb it or shampoo it, I could use scissors or clippers to cut it, and if my client made a sound of discontent that their head was shaved in an argyle pattern, I could use my special G.L.O. potion to magically regrow their hair.
Coloring was also a creative experience as I could choose from one of 12 different hair dye colors and use them as I wish. The lion approved of his pink highlights but roared a little when I tried black streaks.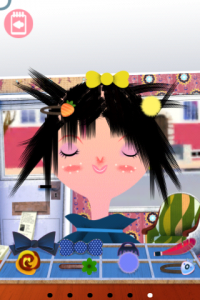 Color and cut complete, I carefully gave the lion a digital blowout, combed his bangs so that even Justin Bieber would be proud, and chose a bright yellow bow from an endless supply of accessories to complete the look. My masterpiece was met with a giant lion grin and I knew that he was satisfied.
I saved my picture in the gallery and proudly showed my kids what I had accomplished. They were kind of mad that I had hid in the corner with the iPad while all they had to play with were 20-year-old Barbies that strongly resembled the lead singer from Flock of Seagulls.
Just like with the other Toca Boca apps, the premise of the game play in Toca Hair Salon is that there are no rules, no right or wrong, no one telling you that your time's up. The player is given the utmost autonomy with their creative choices and playing the game is easy for any age.
I definitely feel this app is worth the download price of $1.99, especially compared to the price of Barbies these days.
Details:
– No advertisements or in-app purchases
– Six unique characters and endless styling options to choose from
– No time limits, point scoring, or loud background music
Other Apps:
– Toca Doctor HD
– Toca Doctor HD Lite (FREE!)
– Toca Kitchen
– Toca Hair Salon
– Toca Hair Salon – Christmas Gift (FREE!)
– Toca Tea Party
– Paint My Wings
– Toca House
– Toca Robot Lab
– Parenting's Birthday Party Playtime
Please help support iPadKids by downloading the game via the App Store icon below!