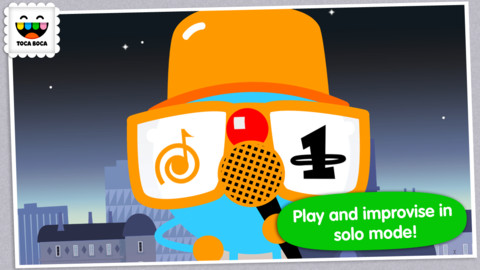 As a birthday or Christmas gift a few years back, one of the kids received a small keyboard shaped like a cat.  While cute and rather unassuming, the real surprise came when the youngest was pushing buttons and keys and singing loudly into the attached microphone – notes started coming out of the speaker meowing.  Yes, the keyboard actually meowed like a cat, in tune to whichever piano key was being pushed.  I'm sure you can see where this is going; down a long, winding, dark road of parental torture and despair.
Imagine my relief when Toca Band was released.  Not only do I worship in the temple of Toca Boca, but I also (despite my annoyance at the pet piano) encourage musical creativity.  If anyone could make the art of kids' music production cool and kitschy, it's the folks at Toca Boca.  And they certainly reached the high notes with this harmonious hit.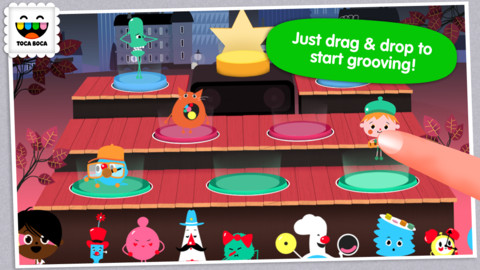 The stage is set – literally – for players to personalize their tunes from top to bottom with three levels and 8 spotlights for performers with the most enviable being the solo spot marked by a star.  A wild cast of 16 characters make different rhythmic sounds on endless loops, and tempos vary depending which tier the character is on.  From a teeth-chattering green monster to an operatic granny, both of my kids were fascinated by the motley crew.  They loved the noise and music and I loved that it wasn't a tinny meow-meow-meoooooowwww.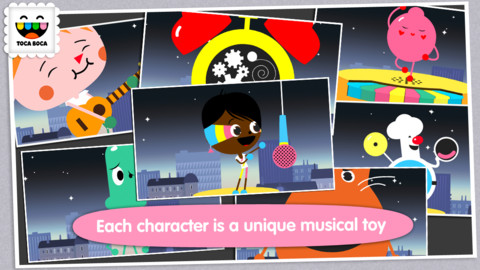 For a download price of $1.99 this app is a veritable bargain.  Not only are the possibilities to create endless, but the game is fun and clever.  As always, there is a wonderful absence of in-ad apps and purchases, and young players won't feel the stress of playing against a clock or not beating a level.  One day, when your little one is up on stage accepting a huge music award, you'll remember the moment you threw out that kitty keyboard and decided to download this app instead.
Details:
– Change the way each character plays by placing them further up- or downstage
– Make the song the way you like it – then dance along with your own moves
– Play and improvise in solo mode by placing a character on the star
– Combine rhythm instruments with melody and vocals
Pros:
– Game play is direction-free and requires no reading
– Complete freedom to create endless musical combinations
– No time limits, scoring systems, or levels to foster stress-free play
Cons:
– None; this melodious marvel is goof-proof and entertaining

Price: $1.99
Age: 2+
Toca Band will be music to your ears; aspiring Beethovens of all ages will roll over for this app!
Please help support iPadKids by downloading the game via the App Store icon below!