Watch your gang of monsters grow from adorable hatchlings to fire-breathing hybrids, making sure to take care of them every step of the way.
Price: FREE
Age: 4+
There are a lot of steps to play this game and can get confusing for kids under 8.



Pros:
– Several different monsters to choose from, including custom "hybrids"
– Enough to keep the player constantly busy
– Great animation and artwork

Cons:
– If I had to choose one drawback, it's that this game could really become addictive!
– In-app purchases can be costly
Growing up, I felt different.  Other kids wanted to be astronauts or ballerinas; my grown-up dream was to be a monster mommy.  Okay, that's not really true but if I knew then how entertaining this game would be, I'd totally change my life plan.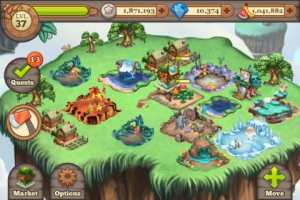 Tiny Monsters is a fantastical world in which you can build a monster "island" in the sky as a home to your growing brood of (pardon the pun) tiny monsters.  From habitats to eating habits, you are in control of every step of these wonderful creatures' evolution.
When the app opened, the first and most fundamental actions were explained to me.  I had to build a nursery first to incubate the monster eggs and for each type of monster I had to build a separate habitat – for example, my fire-breathing lion cub belonged in a fire habitat.  Each egg and habitat cost coins, but each monster was considered an attraction that also generated coins from paying customers.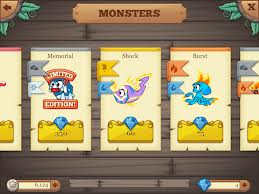 Food for the monsters is in the form of fantastical fruits grown on a farm I build (also costing coins) and each fruit had a value associated with it.  Cloudberries cost 30 coins and had a food value of 5 and only took 30 seconds to grow, but Mountainmelons had a higher value with a higher cost and longer growing time.   With every feeding my monsters grew from babies to teens to adults and I earned rewards as they aged.  Experience points helped me advance through the levels and diamonds were a form of payment for items such as decorations and habitats.
Along with caring for and feeding my monsters I had quests to complete along the way, including growing certain fruit or building specific habitats.  Completing these quests also helped to earn rewards and move to the next level.  The end goal of this game is to find the "legendary" monster, which I have yet to do. Not for lack of trying – I'm feeding my monsters even as I type this.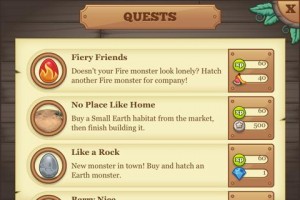 One drawback to this game is the in-app purchases. For those players that lack the patience to wait for food to grow or monsters to evolve there is the option of buying fruit and time with real money, up to large amounts. This could create a potential argument between children and parents.
Another downside is the time commitment.  Because each task takes a certain amount of real time so I found myself baby-sitting my tiny monsters and carrying around my iPad throughout the day.  I found myself repeating a process of collecting coins, growing fruit, feeding monsters, and clearing the rocks and trees from my island.  I can see how this would be problematic for parents of younger children who tend to have tunnel-vision with games that require this kind of attention.  Had my kids been older and really understood how to play this game, there would totally be some iPad snatching, whining, and maybe even some hair-pulling as they would become immersed in Tiny Monsters.
The bottom line is that this app is fun and more importantly free, as long as you don't commit to the in-app purchases.
Details:
– Fun monsters and habitats
– Hi-resolution artwork and animation
– Several in-app purchases to speed the process

Please help support iPadKids by downloading the game via the App Store icon below!