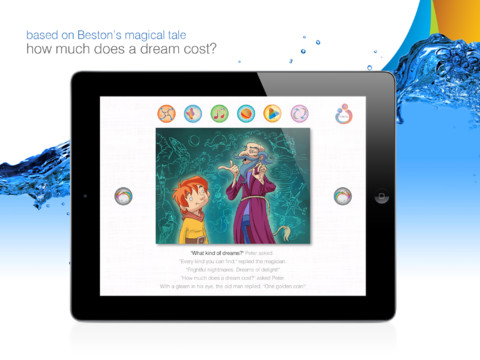 You know the old saying, "Be careful what you wish for"?  It's what I say to my son who says things like, "I wish I could live at Gramma's forever!" and "I wish I could have another puppy!".  (Incidentally, one of our dogs recently had a litter of 7 puppies, and I'm not sure the kid will ever ask for a dog again.)
The aforementioned adage is the simple message in the early 20th century story at the center of this app.  Written by Henry Beston as a part of a collection of children's fairy tales, The Seller of Dreams weaves through the wishful thinking of a young boy named Peter.  After meeting a magician and seeing the grass isn't always greener, Peter returns to his "normal" life with an appreciative new outlook.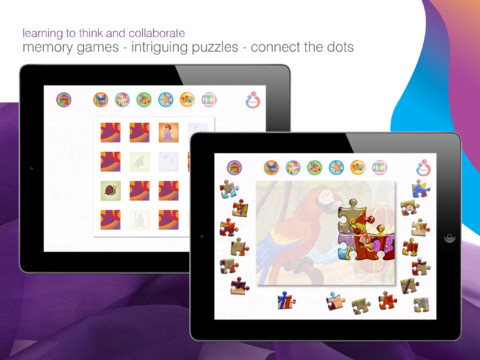 This app is so jam-packed with features it's hard to know where to begin.  Let's start with the actual storybook mode, where we read along as a narrated voice told the story and the words were highlighted as we went.  Narration could be turned on or off, and we had the option of recording a voice reading to story to play back.
Within the storybook mode we could also choose to play a mini-game like connect the dots or memory, or put together a puzzle featuring one of the book's amazing illustrations.  The level of difficulty of the games is enough so that my now 5-year-old can still be challenged while my 2-year-old doesn't give up because it's too hard.  Coloring book mode is quite involved, offering an array of every color and several different color textures such as paint or charcoal.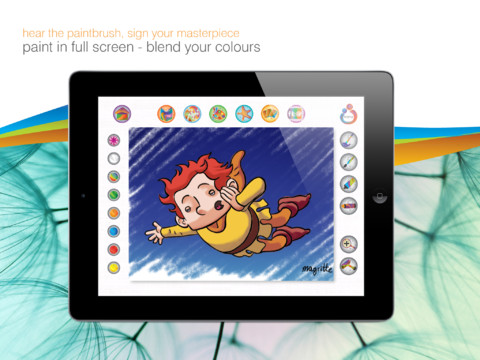 Reading the story, either with or without the narration, obviously helps to teach reading skills to young players.  Beyond that there are several additional learning fundamentals being reinforced – memory skills, problem solving, and artistic creativity.  Fairly priced for the e-book market at $3.99 this story and the apps additional features will give you quite a bang for your buck.  It's also a lot less work than taking care of 7 puppies.
Details:
– Story-specific learning games, including connect-the-dots, puzzles and memory cards
– Original music and superb sound effects
– Literary writing directly adapted from the original story by Henry Beston
– Engaging and user-friendly HD interface design
Pros:
– Narration helps younger non-readers follow along
– Several non-reading modes keep children engaged for hours
– Illustrations are beautiful and lively
Cons:
– None; the comprehensive app is actually a bargain considering the content

Price: $3.99
Age: 2+
This well-rounded e-book will delight readers and non-readers alike!
Please help support iPadKids by downloading the game via the App Store icon below!