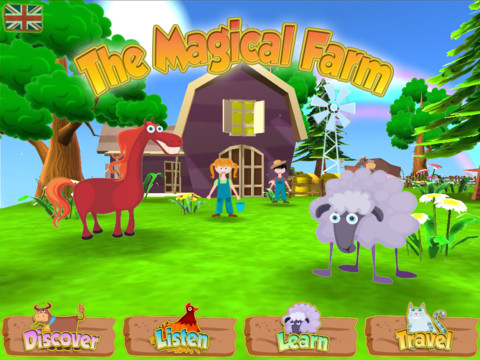 About 10 minutes down the road from us is a wonderful animal park.  There are two sections; one area that's set up with animal habitats, and another area that visitors can drive through – almost like a safari.   Now, these aren't your run-of-the-mill petting zoo animals; we're talking water buffalo and ostriches, alpacas and zebras.  You can even feed giraffes out of the sunroof of your car.
There isn't quite an iOS substitution for the  close encounters of the animal kind, but The Magical Farm sure comes close. Featuring 3-D animation and simple user interface, this app will help introduce younger players to farm animals.  While the star players aren't exactly the natives of the Serengeti they are the most recognized – and  recognizable – members of the animal kingdom.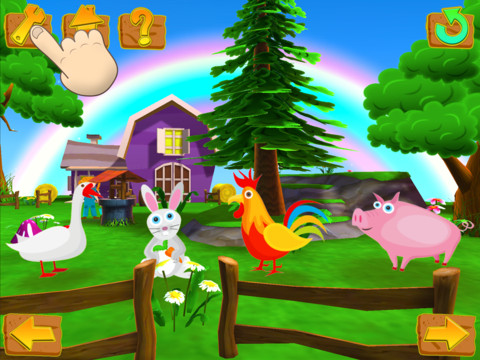 Four different mini-games teach players the names of the animals and the sounds they make just by tapping each animal. Verbally narrated directions for each game mean that no reading is required but the written version of the animal name will help build pre- and early-reading skills.  The last mini-game is especially cool; it's a fly-through "tour" of the farm and highlights the 3-D animation.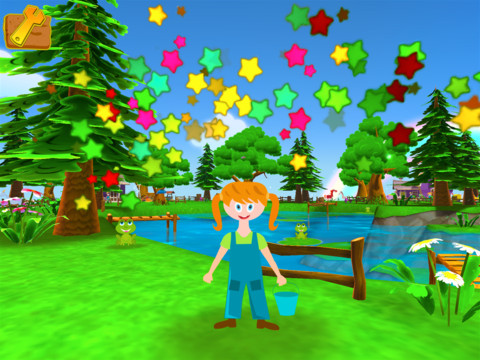 My kids might be spoiled on emus and lemurs, but it didn't stop them from having fun exploring this app.  At 3 and 5 they were both easily able to follow directions and play the games.  I will say that my youngest stayed interested longer than her older brother – which speaks to the limited age range of the app.  However, both kids spend the rest of the day making various animal noises at each other.
The Magical Farm would be ideal for iPad beginners, toddlers, and preschoolers.  At a download price point of $1.99 this is a fairly priced app considering the intricacy of the 3-D animation.  We can't wait for the African version!
Pros:
– Easy enough for even toddlers to play
– 3-D animation will delight kiddos
– Verbal directions and narration help with pre- and early-reading skills
Cons:
– The age range is limited – older kids may not be challenged enough

Price: $1.99
Age: 2-4
This ain't Old McDonald's farm!
Please help support iPadKids by downloading the game via the App Store icon below!