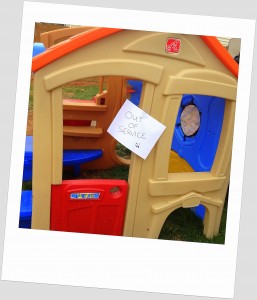 My husband describes me as a luddite.
Don't feel bad, I had to look it up, too.
Luddite:  A person opposed to increased industrialization or new technology
Yup, totally me. So long as there was running water, lights, and no ants, I'd have no problem moving into a shack in the jungle, far away from computers, phones, and televisions. Okay, maybe that's a little extreme, but I am often times filled with loathing when it comes to how much these devices rule my life and I frequently find myself wishing them away.
I am upset that my kids get bored and turn to the TV or iPad despite a room full of toys and a big backyard. It saddens me that my husband looks more deeply into his phone or laptop screen than he does into my eyes.  I miss the excitement of finding letters from friends in the mailbox. I am disturbed by how disconnected we as a society seem to be from the ones close to us.  I deeply feel as though all this technology, all this convenience, is sucking the life out of our lives.  Instead, we are living second-hand, limiting our experiences to what can be found on the screen.
Am I coming off sounding like a nut job yet? My husband works in IT; computers are his job and his hobby, so I'm pretty sure I sound completely off my rockers to him. My children know of no other way, so anything different is just unfathomable.
I have been giving this a lot of thought lately, and I have come to the conclusion that it is my responsibility, my duty as The Mom, to expose my family to what life can be like without screens. I have decided to subject my family to a weekend without TV, tablets, or phones. I am calling it The Great Experiment.
This is Part I, the planning stage. I have not spoken to my children or husband about The Great Experiment yet. I have some details to work out still, like:
When? Now? Spring? Summer? What time will most likely yield the greatest success?

Activities? What can we do that will keep them distracted from the screens they're missing? Should I have lots of things planned or just wing it?
Car trips? Would a long trip be a bad idea since the kids wouldn't have access to their iPad, DVD player, Nintendo? Would that be asking too much from a 2-year-old and 5-year-old who are used to nothing different?
How to I approach them with the idea? I actually predict my husband to be the biggest obstacle. Am I ready for the battle?
Is it even fair of me to ask this of my family, my family who apparently sees no problem with the status quo?
*Sigh*
I really want to do this. I need to. I need a break from the seemingly constant intrusions and interruptions these devices impose on my family.
Have you done your own Great Experiment? Do you have any advice for this first-timer? If so, please share in the Comments section. I could use all the help I can get!