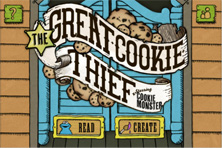 The Great Cookie Thief – Starring Cookie Monster is a well-done interactive story with an artistic "create a wanted poster" section. It doesn't wow, but is a solid addition to the app library.
Price: $0.99
Age: 3+
The story section is read out loud by the characters, and the drawing section only requires a bit more dexterity (a few years older).
Pros:
– Cookie Monster!
– 12 pages full of moving and interactive elements
– Words are highlighted as they're read
– Quality Wanted Poster creator with gallery
Cons:
– Only Cookie Monster! No other well known muppets are featured
– Noticed minor glitch
The Great Cookie Thief is basically an interactive storybook based on the original paperbound version of the same name. It takes place in a Western Town full of muppet-type characters. They wiggle a lot, and interact when you poke them, and their tale is one of woe: the cookies are gone. Everyone in town is pretty sure they know who to blame, and his Wanted poster is prominently displayed.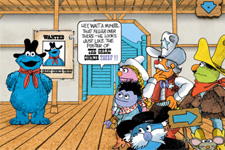 Each page is full of moving characters and full Western saloon sights and sounds. There's the piano player, rustling up some tunes, and the bartender slowly washing a glass. The rest of the members of the saloon seem tired and bored, with half empty milk glasses and no cookies to be seen.
Soon enough, the story of the great cookie thief is revealed, and he makes an appearance himself. It's your job to identify if this is really the thief in the wanted poster or not, by interacting with the story. This creates a fun little section of the story that really makes you feel part of it.
The sounds in the story are great, and the animation looks fantastic, almost like a real picture book is sitting in your hands. At one point in my first read-through the background faded to black and I had to restart the app to fix it, but then I didn't encounter the issue again.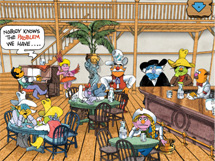 Once you're finished with the story section, you can head on over to create your own wanted posters, using a set of pre-loaded stickers and images, or by painting with a variety of brushes. A lot of drawing sections require a stylus to be halfways decent, but it's really easy to make a good looking poster just by using your finger here.
The Wanted poster section is a surprising amount of fun, as you can import your own photos (or take one using the iPad's built-in camera) and manipulate photos of yourself or siblings. When the poster is finished, it's hung up in the gallery and a fake name and funny details of misdeeds appear beneath the image.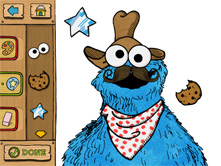 Overall the app is well worth the $0.99 price tag, even if you end up only fiddling around with it for a night. My guess is that a child will have enough fun to request repeatedly at bedtime, and in that case it will be quite a bargain.
Details:
– 12 interactive pages
– Story is read by characters
– Poking any character will elicit snippets and sound bites, or prompt them to move
– One truly interactive portion of the story changes the story based on what you poke
Please help support iPadKids by downloading the game via the AppStore icon below!