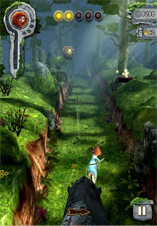 Temple Run: Brave is a pure action app that shallowly incorporates the main character from the Disney / Pixar film "Brave" into the hit game, "Temple Run." While it's obvious the game is a revenue ploy, it's still slick and solidly fun. The app is little more than fast-paced iPad handling, and as such, it's an intense and short-lived diversion.
Price: $0.99
Age: 8+
Children at the slightly higher end of the Pixar age-range will enjoy it. It's an action game, so you have to be fast, and you have to be able to tilt the iPad while swiping and poking. There is absolutely no storyline.
– Vivid graphics
– Intuitive action that only requires a short initial tutorial (seamlessly integrated into the game)
– Purchasable power ups and upgrades extend gameplay
– It's tough!
Cons:
– No story elements beyond upgradable clothing and audio snippets
– Difficulty could be frustrating for younger players
– In-game coins can be purchased with real cash, creating a conflict between kids and their parent's wallets
– "Brave" integration is shallow
The original Temple Run was very well received, so it's no wonder that Disney / Pixar decided to partner up and create a new version. The updates to the original game are mostly aesthetic, as the "Brave" encompasses a few new scenery elements, the occasional audio snippet from the movie, and the addition of an archery element (tapping targets).
The gameplay is easy to learn and tough to master. It's an action game that involves you, as Merida, sprinting away from the ferocious bear in the film. You have to swipe up, down, left, and right to get around tight turns and obstacles in your path. To make it more complicated, you also have to tilt the iPad to collect coins, and tap targets to shoot with your arrow. The ultimate goal is to keep running as long as possible.
Performance bonuses and purchasable upgrades keep the game moving forward and give it a ton more replayability, but you're still just running the same, randomly generated course every time. You feel a real sense of accomplishment as your skills increase, and there's a definite thrill when the bear is right behind you. Overall, this is a solid diversion, but it's most fun as a casual game that you pick up every once in a while.
Please help support iPadKids by downloading the game via the AppStore icon below!