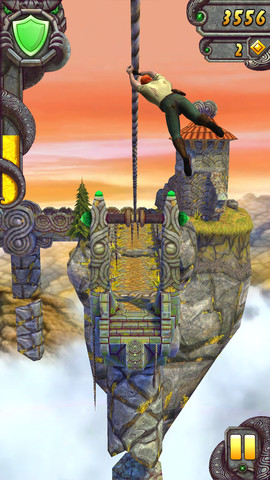 There are a lot of analogous puns and facetious one-liners that come to mind when thinking of Temple Run 2.  Off the top of my head I can think of how I would complain about the mere thought of engaging in endless running.  Then there's the fact that sequels are notorious for being "less than" the original version.  Of course, I could throw in the obvious reference to Indiana Jones.  (I'm sure the latter was used to death in reviews for the first Temple Run app, so I'll spare you.)
Forsaking sarcasm for a more deadpan approach, Temple Run 2 is by far the most addictive app that I have played in a long time.  The basic concept of the game is the same as the first release – run through architectural ruins,  trying to elude physical obstacles and jumping and turning in time to avoid certain death.  Running is automatic but swiping left or right turns your character, swiping up makes him jump, and swiping down helps him slide under low-slung tree roots and fiery torches.  Along the way there are clusters of coins that pay to upgrade game features and specialized tokens that give you special powers and temporary invincibility.  If you run off the path or don't make that cliff jump in time, the mythical beast of undiscernible origin will eat you.  And then brag about it with trite "NOM NOM NOM!"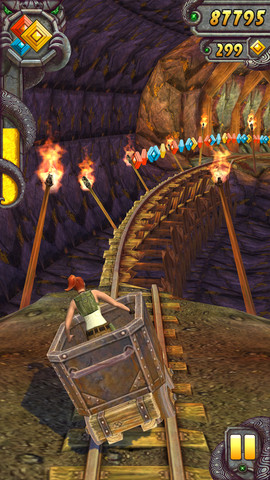 Although I had heard of the wonders that is the original Temple Run app, I never did succumb to its powers until I had downloaded and played version 2.0 so I could compare the two.  The newest release takes place against a different ruinous landscape, replete with ropes, terra cotta roof tiles, and lush waterfalls.  At one point I found myself (my character) rolling in a mining car through a railway tunnel, ducking and dodging to avoid decapitation.
Just as in the first version, this sequel offered me the chance to collect enough coins to increase my earning potential, use a shield to protect myself, and boost my running speed, among other perks.  With each run I had three objectives to meet, and once completed new objectives popped up.  For example I had to run for 500 meters without collecting a single coin.
My kids really didn't see the entertainment value in this game as I'm sure the idea of endless running without a true final destination is probably pretty boring to the toddler or preschool crowd.  Older kids who appreciate action-packed console games (or Indiana Jones) would really enjoy the challenge of this free download.  I might even go so far as to say this sequel outshines the original.
Details:
– Beautiful new graphics
– Gorgeous new organic environments
– New obstacles
– More powerups
– More achievements
– Special powers for each character
– Bigger monkey!!!
Pros:
– Non-stop action gets more exciting as you progress
– Easy, uncomplicated game play
– Lush, bright graphics to keep players interested
Cons:
– If anything, it's the costly but optional in-app purchases

Price: Free
Age: 7+
Run for your life in a fresh, updated version of the uber-popular original endless running game
Please help support iPadKids by downloading the game via the App Store icon below!