You'd better be ready for action because Team Umizoomi is ready to teach you math!  Mighty math powers abound as Milli, Bot, and Geo guide you through Umirrific games.
Price: $3.99
Age: 3+
Some basic math skills such as addition and subtraction are required to play this game.
Pros:
– Games successfully navigate through a range of math skills
– Characters are from a popular television show which makes them recognizable
– There are only 5 mini-games; helps to streamline game play and reduce distractions

Cons:
– Range of skills being taught are too broad and not cohesive
– There are some minor software glitches that have yet to be fixed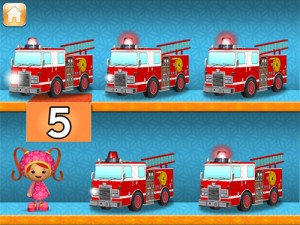 Although Team Umizoomi Math: Zoom Into Numbers HD is intended to be an educational game created for developing math skills in preschoolers, it's really fun to play. There are only five mini-games, set against the backdrop of Umi City, which is full of fun animated objects. The low number of games actually limits distractions and can really cut out frustration that younger children can feel when presented with too many choices.
The five mini-games are Toy Store Counting, Number Bubbles, Rolling Toy Parade, Race Around Umi City , and Up! Up! And Balloons. I found that the skills being taught in these games lack cohesion. For example, children who are able to count toys in the Toy Store may not be ready to do simple addition and subtraction of balloons.  This was really a drawback for me as I saw how easily a child could get frustrated that he could no longer play the game without the help of an older player.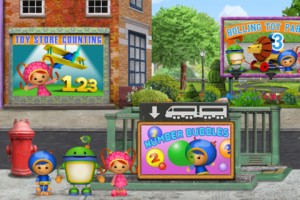 When I completed a game, I earned a badge and I was pretty excited about my accomplishment, until I saw that I would need about 3000 more badges to actually get the "biggest" prize – a key to Umi City. If I were to engage in continuous game play it would take me hours to get all the badges I need. I closed the app and went about my day, but when I returned to play some more I found that all of the game play data had been erased and I had to start my game all over. Had I been a preschooler discovering this epic software fail I would have thrown an equally pretty epic tantrum.
Taking a break from the games to explore Umi City, I traveled down the street and came across flower pots that lift to reveal a croaking frog, a turtle peeking out from under a manhole cover, and an ice cream truck that jumps in the air as if it had hydraulics. While these were a cute change of pace from the mini-games, I was kind of disappointed that they didn't do more, like show a video clip or play a cute Umi song.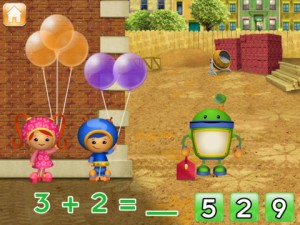 Math skills are generally thought of to be some of the most difficult to teach younger children, but also the most valuable to create a strong foundation for their later school years. While Team Umizoomi uses this app as an extension of their highly popular and successful educational television show, the app itself lacks the continuity that the show offers.
If this app were at a lower price point I would suggest downloading it, but at nearly $4 I don't know if it's worth the potential frustration that kids may encounter when trying to play the mini-games.
Details:
– 5 leveled games focusing on preschool math skill development
– Developed based on expert educational advice
– Several "suprises" to enhance and excite young players
Please help support iPadKids by downloading the game via the App Store icon below!