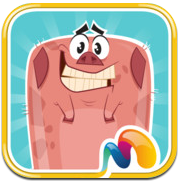 Tap A Tune is the virtual music instrument for toddlers and preschoolers that features goofy graphics and musical fun.
Based on a plastic xylophone toy that has been a kid favorite for decades, this app is sure to make the kiddos giggle and keep them busy for hours.
iTunes description:
★ FREE For a limited time! ★

The young musician in your life will love improving their musical skills as they play classic nursery rhymes and holiday tunes, helped by a group of hilarious musical animals who pop up from holes in the ground.

Tap the animals in the order they pop up, and create your tune!

Designed for children ages 2 and up, Mindshapes' Tap-A-Tune builds musical confidence and provides valuable learning (hand-eye coordination, exposure to different rhythms, instruments and tones). The app is wrapped in a hilariously cute design that will hold your child's attention as they succeed at tune-making.

The app has three different modes:

-Play mode: Tap on the animals, as they pop up, to play each note of a song. Upon completion, the tune plays back, and the animals dance to celebrate your success.
-Freestyle mode: Tap on any animal, in any sequence, to compose your own song.
-Baby mode: Tap on any animal and the notes of the tune will play automatically.

As well as choosing their favourite tunes, children can also try 'keyboard' mode, where the animals pop up from a traditional keyboard instead of holes in the ground. This mode is great if you want your child to start understanding how keyboards work, as a building block for formal musical learning.

Children can also cycle through many different instruments. including piano, accordion, clarinet, acoustic guitar, and even animal noises!

Songs include:
Nursery Rhymes:
-Bah Bah Black Sheep
-Hickory Dickory Dock
-Old MacDonald
-Row, Row Row Your Boat
-The Wheels on the Bus
-This Old Man
-Twinkle, Twinkle Little Star

Christmas Songs:
-Ding Dong Merrily on High
-Jingle Bells
-Jingle Bell Rock
-Joy to the World
-Once in Royal David's City
-Rudolf the Red Nose Reindeer
-Santa Claus is Coming to Town
-The First Noel
-Winter Wonderland
Please support iPadKids by downloading this app using the link below!

#####
Free Kids App of the Day is on ongoing series on iPadKids where we hand select a free app to be featured every day. We can only guarantee that the app was free at the time of publishing, so get in quick so you don't miss out!