Kids love  a good bedtime story and, chances are, they also love your iPhone. Mixing the two has become a natural progression as tons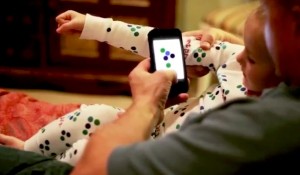 of beautifully illustrated and fully interactive storybook apps have made their way to the Apple App Store. But what if you didn't have to choose from tons of storybook apps? What if story-time was as simple as scanning your child's pajamas with your iPhone? It may sound ridiculous, but 'Smart PJs' do just that! These new jammies are the next great thing in children's wearable tech and I, honestly, can't wait to try them, er…let my kids try them.
The makers of 'Smart PJs', based in Idaho Falls, Idaho, designed a set of children's pajamas with a very unique polka-dot pattern. Although they look like every other pair of pajamas your child might own, Smart PJs are different! The dot pattern on the sleepwear functions just like the scannable QR Codes. Using the iPhone, parents can scan their child's pajamas and unlock stories that subsequently show up on screen, complete with words and pictures.  How cool is that?! There is also a free companion app that is able to read the stories aloud so that parent and child can enjoy hearing the story together.
Smart PJs are available for both boys and girls (blue neck trim vs. pink neck trim) for only $25. The are available to fit children ages 1-8. These PJs could have many different, unique uses. Whether the child is part of a family who frequently travels and cannot bring lots of books along, or is a child who might enjoy a new bedtime routine in the comfort of their own home, Smart PJs can be for anyone!.They would even make an excellent and unique birthday gift idea for your children's friends!
Check out this fun video that shows exactly how Smart PJs work!