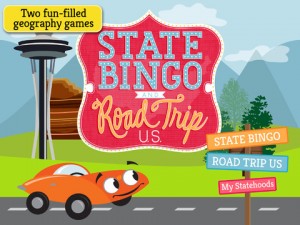 Need a great road trip app for kids? Released just this month is a fabulous new educational app from Niyaa called 'State Bingo and Road Trip US'. With super-cute illustrations and an adorable car character named 'Pep', kids can learn facts about the United States and discover the US map in a whole new way!
Using 2 different game modes, State Bingo Mode and Road Trip Mode, this app conveys a comprehensive elementary geography curriculum for children of all ages in a unique and exciting way.
State Bingo Mode-  This mode allows kids to solve state riddles and interact with an incredibly beautiful US map. With different levels of difficulty, children can challenge themselves by using the state shape instead of the name, to answer state riddles.  This mode focuses on teaching state capitals, state shapes, state facts, state neighbors and state landmarks!
Road Trip US Mode- This game allows children to navigate 'Pep', the friendly car mascot, around the map. Kids must propel Pep to his destination before his tires go flat to win the game. More difficult levels of game play place dead ends and other obstacles for Pep to avoid. This mode also allows a historic route to be selected, such as the Louis and Clark Expedition trail or Oregon Trail. This mode of play focuses on teaching map navigation, landforms, topography, natural resources, and historic trails.
Another great (and likely the best) feature that 'State Bingo and Road Trip US' includes is its focus on common core facts! Who doesn't love an app that can teach children information that they will need and use at school? Incredibly enough, this app was created in collaboration with teachers so that the information contained therein would be beneficial to all elementary grade children. With 600+ common core questions, kids can really get a head start in the geography department!
'State Bingo and Road Trip US' is available for download via the iTunes app store for $1.99. This app is available for iPad only.