Hot off the press from Saturday Morning Apps is Star Glow, the brand new kid's app that lets children paint the night sky, their way! Released this week, Star Glow is a simplistic yet insanely fun way to wind down with your child at the end of the day. When a bedtime story just won't cut it, Star Glow will be your new 'end of the day' go-to app!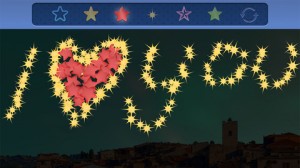 The Star Glow app  consists of various night-sky backgrounds that act as a canvas. The beautiful choices include a South American cityscape and a serene canyon; The perfect places to adorn the sky with lots of stars! Not only are there lots of background choices, there are tons of stars to pick from as well! Sporting various shapes and colors (as seen in the screenshot above), the stars can be placed wherever in the sky your child desires. The stars can even be used to write messages or the names of loved ones.
Star Glow also boasts realistic ambient sounds that make your child's night-sky experience even more realistic. Listening to the crickets chirp while watching the twinkling stars that they have strategically placed, makes Star Glow a relaxing and realistic experience! And the best part of all? When your child is done placing the colorful stars and watching them twinkle, the touch of a single button will reset the stars, causing them to shoot across the sky in a beautiful display. Make a wish, then play again!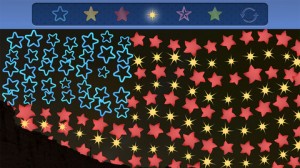 Reccomended for ages 4 and up, the Star Glow app is great for kids of all ages (and even parents who might need some quiet and relaxing alone time, right?).
Star Glow by Saturday Morning Apps is available for download for only $0.99 here.