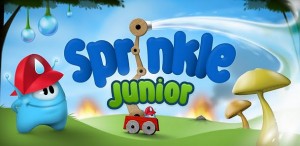 In Sprinkle Junior, your little one can use fun physics to help put out fires on a far-away planet after an unfortunate meteor shower.
Price: $1.99
Age: 2+

The actual tagline for this game is "A wet playground for all ages!"
Pros:
– Bubbly and cool cartoon graphics
– No time limits, point scoring, progressive levels
– Easy to play, physics-based levels

Cons:
– Kind of major: This game is super short once your kiddo masters the play technique
If you've heard the old story once, you've heard it a million times.  Seems like every day there's news of a meteor shower raining fiery balls of space rock onto a neighboring planet, inhabited by brightly-drawn, robust alien beings.  What?  You haven't seen the Enquirer yet this week?  Oh, well, I don't want to give out any spoilers.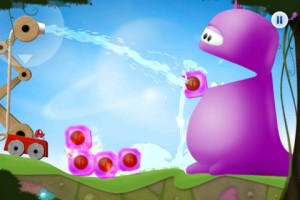 So maybe extraterrestial news like that doesn't quite make it to your local news channel, but it's fun to think about – especially for the younger crowd with notoriously active imaginations.  Sprinkle Junior takes this concept and places it into a fun and engaging app that plays little brother to its more challenging counterpart app, Sprinkle, from the same developers at GamerPop.  A short video available at the start menu lays the groundwork – aliens, meteors, etc. – so players get the gist.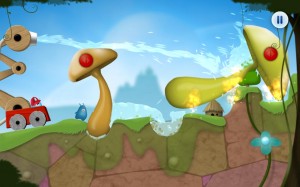 Looking at screenshots of this game I knew instantly that my 4-year-old would be drawn to this app.  Characters are like cartoons; round and bright and funny-looking, and Sprinkle Junior himself is wearing a baseball cap.  The 30 levels in the game are represented in the start screen by five fun icons and I could start at the first in line sequentially or skip around.  This feature is pretty crucial for keeping the toddler/preschool crowd engaged as they generally have the attention span of a cricket.
Game play was relatively easy and basically required squirting water onto fires by tapping the hose and lowering or raising it to get the physics part of it all.  I wasn't timed, my technique wasn't scored, and I never "failed" the level; I could keep going until all of the fires were out or I could go back to another level.  Some actually took more than one try to figure out the right angle or placement of objects in the line of the water spray, but generally very easy to figure out.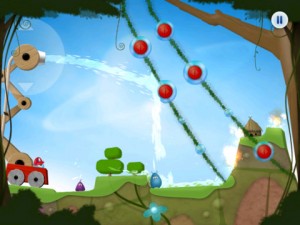 In this ease, however, is this game's most fatal flaw.  My play time to complete all the levels was super-speedy so I returned to the beginning and timed myself the second time around – I spent just a little longer than seven minutes playing through all 30 levels.  Because there was no 3-star scoring system or timing, it's not like I could earn more non-existent points for besting my personal record.  For a download price of $1.99 I expect to get a little more substance out of an app; I don't see my son playing this a second time after mastering it once.
While Sprinkle Junior is fun and visually appealing, at that price it can't compete with some really brilliant free kids' apps available.  With the $2 you save by skipping this download you can run out and grab the latest issue of the supermarket tabloid to catch up on UFO news.
Details:
– Incredibly realistic and fascinating water physics
– Intuitive touch controls
– 30 unique and creative levels