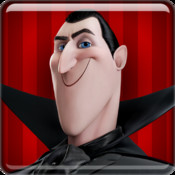 Sony Pictures Home Entertainment recently released the Hotel Transylvania Monster Party App. Just in time for the DVD release of Hotel Transylvania, this app brings your child's new favorite movie to life with a ton of different interactive, character-based games!
Hotel Transylvania Monster Party App has entertaining features that will keep your child busy when he or she is done watching the movie! The app sports these exciting games:
Create-a-Monster- This feature allows children to build their own monster and customize it by choosing different heads, bodies, and extras. After creating the perfect monster, kids can choose a name for their creature and also receive a scare-o-meter rating for their creation. After they are finished, children may share their creation with friends via social media, email or saving a screen shot of their monster to the camera roll.
Memory Game- Kids can test their memory skills in a virtual version of the old fashioned flip-a-card memory game. Each card, of course, sports an item or character from the Hotel Transylvania movie. With a timer and different levels of difficulty, this game is fun for children of all ages.
Tour the Hotel-By clicking question mark icons that are scattered throughout the room, children are able to take a tour of  Hotel Transylvania! During the tour they can view clips from the movie and also get to know each character. Being able to tour the hotel really brings the the movie to life for children (and adults!).
With all of these activities, what better way is there to let your child enjoy interacting with some of the characters from one of their favorite new movies? Best of all, there are no oppertunities for in-app purchases, making the Hotel Transylvania Monster Party app fun and truly free!
This app can be downloaded from the Apple iTunes App Store via the link below and is available for both iPhone/iTouch and iPad.