Summer heat getting to you? Hit the slopes with this fun and fast-paced app!
Price: $0.99
Age: 4+
All ages can master this app quickly as finger-tapping is the only skill necessary to have fun.

Pros:
– Fun, quirky graphics
– Incredibly easy
– No ads pop up during actual game play

Cons:
– None, this game is easy and addictive!
The easiest way to forgot the nightmare that was the hottest July on record is to play Ski Safari and daydream about winter sports. This app is so easy even a yeti can do it! If you don't live with a yeti, let your preschooler play and then Google "yeti" for him when he asks.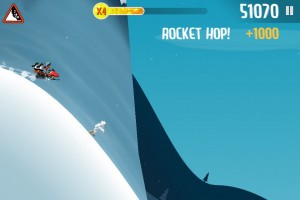 Sven, the Nordic-named ripper, is snoozing in his cabin, unaware of the approaching avalanche. I had to guide him over mountains collecting coins and earning points along the way. Tapping accelerates Sven's forward motion and catapults him over hills and mountains, over rocks, and launches him into a back flip as he's flying through the air.
Along the way I encountered some local wildlife – namely penguins, yetis, eagles, and wolves. I could hop aboard each animal to increase my speed and an eagle actually lifted me through the air over clouds. I also had tasks to complete to increase my rank, such as flying 5k with an eagle or going 10k without crashing into a rock.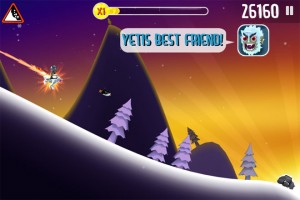 As my rank increased I could choose to forgo the skis and start my journey running with a yeti or in the clutches of a giant eagle. I also earned access to a snowmobile and as I ran into the wildlife on the slopes they would hop aboard for a quick ride.
This game is fun and easy and really appeals to all ages. There are links to the other games from Defiant (the developers) on the start page but there are no pop-up ads during the actual game.  For under a buck you can get endless play from this app.
Details:
– Hundreds of trivia questions
– Collect all 50 states and track your progress on a personalized map
– Four additional bonus games: Map It, Pile Up, Puzzler and Capital Drop
– High resolution pictures of famous US landmarks
Please help support iPadKids by downloading the game via the App Store icon below!