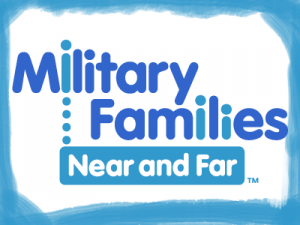 The group on Sesame Street have gathered together to help families through every step of their military journey and beyond.
Price: FREE
Age: all
Some sections contain sensitive content but this app is designed for any age.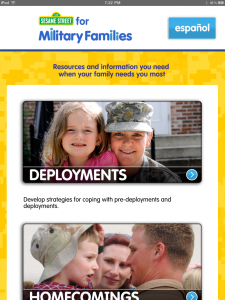 We here at iPadKids.com make it our mission to keep you informed on the newest and most popular kids' apps by providing lighthearted and thorough reviews.  However, we stumbled across this well-executed app while looking at some newer releases and decided to take a moment to be serious and write about Sesame Street for Military Families, because it helps to address some very real and serious issues.  There are no "pros" or "cons" to this app – it's very straight-forward and packed with some excellent resources, and all of the content is available in Spanish to help bilingual users.
There are five separate categories of deployment, homecomings, self-expressions, injuries, and grief.  Within the deployment and homecoming categories, Elmo shares stories and songs about his father being away and returning, and there are articles to help parents with tasks such as developing routines when a parent is deployed.  Elmo also gives ideas on how to stay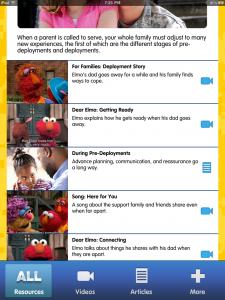 connected with a loved one who is far away.
Self-expression calls in a bilingual character from the long-running PBS show The Electric Company to help children with methods to share their feelings.  Articles in this section include how to guide children through expressing their emotions and how to recognize heroes in their everyday lives.  There is one really touching video within this category where military children list all of the places they've lived.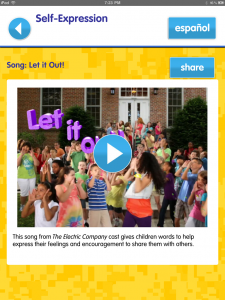 The latter two categories deal with very serious and emotional issues of injuries and grieving over the loss of a loved one.  Because of this thedevelopers put a lock on the category and warns the uses in writing that these sections will need to be dealt with in a sensitive manner.  Not only do Elmo and his neighbor Rosita share their feelings about Rosita's father being in a wheelchair, but the articles include ways to explain "invisible" injuries such as PTSD.  For the unthinkable, the developers have done a stellar job choosing the most tasteful videos  and helpful articles to deal with the death of a parent and helping children to move forward.
Each category also offers users printable resources that put onto paper the ideas that are presented in the app.  There are also games, coloring pages, and posters that can be printed to help reinforce what's being displayed by using the app.  Everything is arranged in a clean and simple visual manner and quick to access.  All said, this is a wonderful app that even the youngest members of military families will be able to utilize.