I came across this gem of an app last week, and I just had to share. While most parents are all about fun and entertainment when choosing apps for their children, many will admit that the educational aspect of an app is just as important, if not more so. Most educational apps focus on the basics: Letter sounds, numbers, fine motor skills, etc. Scholastic's new app is different, though. It's main focus is not necessarily academic, but seeks to educate kids about the world around them.
'Scholastic First Discovery: The Forest' teaches kids about the forest and ends up being a mini lesson in ecology. It is a beautifully illustrated, fully narrated and completely interactive "hike in the woods" that teaches children all about the components of a thriving forest ecosystem.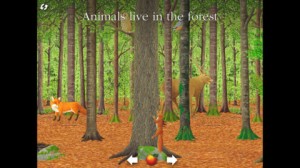 Scholastic's new app features four learning sections that culminate to form a full forest experience:
Forests and Trees- Let's start with the obvious. Inside the app, children learn about different types of trees and forests. Kids can even explore, identify and touch the leaves of different trees.
Seasons-  Beautifully illustrated forest scenes teach children the names of the four seasons and how the forest looks during each of them.
Animals- No forest is complete without woodland creatures. As seen in the screenshot above, the interactive forest setting allows children to tap to find and learn about a wide array of animals that dwell in the woods.
Plants- This feature allows children to "pick" different plant species and put them in their interactive basket. Once plants are in the basket, children can tap to interact and learn more about each plant they have chosen from the forest.
Scholastic's 'The Forest' app is truly a breath of fresh air in the educational app arena. In a sea of letters, numbers and coloring apps, 'The Forest' really stands out as a great alternative to traditional educational kids apps.
On sale for the month of December, Scholastic First Discovery: The Forest can be downloaded via the Apple iTunes app store for the new low price of $1.99. This app is available for iPhone/iTouch and iPad. It has been optimized for iPhone 5.