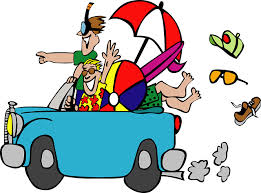 My husband ran his first 5K this weekend. As a family, we were all very excited to support him in this endeavor…especially since the race was in the Outer Banks and it would mean some beach time when the race was over. Unfortunately, it also meant an 8+ hour car ride times 2 all within a span of only 4 days. My girls are 5 and 3, each with an average trip tolerance of 20 minutes. Needless to say, our family iPad was going on a road trip, too!
Managing use of the iPad at home versus on a road trip are 2 very different situations. At home, it's within my reach, therefore more within my control; in the car, I can't even see it half the time. I have to rely more heavily on my girls to follow directions, act independently, and obey the rules.
Easier said than done…
Mom says: The iPad is too loud. I need you to turn it down.
5-year-old hears: The iPad is using its outside voice. Make it quieter and just hold it as close as you possibly can to your head.
3-year-old hears: The iPad is having so much fun. Turn it up even more so everyone can have fun!
Mom says: Whoever has the iPad now has 5 minutes left to play with it before it's someone else's turn.
5-year-old hears: Quick, you only have 5 more minutes to play absolutely every last app on the iPad!
3-year-old hears: You can play with the iPad forever and ever, never having to let anyone else have a turn.
Mom says: I'm sorry, but I can't help you with that game right now. Try something else.
5-year-old hears: Don't play that. Play something else.
3-year-old hears: I won't help you unless you scream and cry for 10 more minutes.
Mom says: I need the iPad up front with me so I can charge the battery.
5-year-old hears: The iPad needs a break so you can play with it more later. Hand it over and instead ask me and Dad about a hundred times how much longer we have in the car until we're there or tell us you have to use the potty.
3-year-old hears: The iPad needs a break. It can take a nap with you.