Don't be upset when you're mistaken for Jacque Cousteau after playing this game! Underwater endeavors include learning about, and saving, rare species.
Price: FREE
Age: 4+
This game isn't complicated but there are a lot of steps involved and quite a bit of reading.
Pros:
– Cool graphics and bright colors
– Learn about important underwater conservation
– Always something to do to keep busy

Cons:
– Constant in-app ads for both free and paid games
– Impatient players might be tempted by expensive add-ons
Alright Scuba Steve, strap on your gear and let's get a-diving! Rescue Reef brings players to the ocean floor to help keep the wet ecosystem moving and evolving. Fun graphics and adorable characters make this game engaging and exciting to play.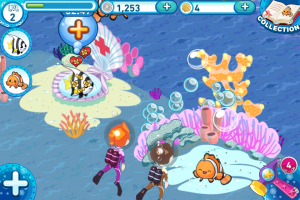 Realistically I didn't expect to get a PhD in Marine Biology when I opened this app – the smiling fishy icon didn't really scream "doctorate". I did expect to have some fun and possibly learn the name of a new fish to use in front of my four-year-old and greatly impress him.
As I began to play, I saw cartoon clownfish crying tears and pretty much lost all hope of filing away obscure marine facts. As I tapped on Sad Nemo, I was directed through the "healing" process by a bubbly blond who apparently is in charge of the particular conservation station at which I was working. I had to build a healing station, place the fish there and wait for him to recover, build a play pen for rehab purposes, and then wait until his happiness was at 100% and release him back into the wild.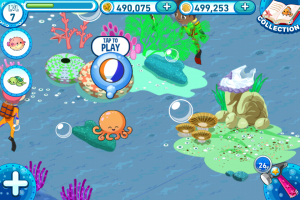 This all took real time – like, 5 minutes to heal, 15 minutes for rehab. I could pop floating bubbles as I patiently waited and they would reveal either level points or coins, so it wasn't like I was staring at depressed fish for a solid 7 minutes at a time.  Each healthy fish that was released also garnered coins and level points and as each level was passed I could choose from more species to save and different ways of saving. The sharks were hungry and required the building of a food station, the angelfish were dirty and needed a version of a car wash for fish.
As the levels progressed, I gained access to more creatures and more stations, earning more points and coins. I also unlocked real but common facts about the species I helped – ie, male seahorses keep eggs in their pouch while waiting for them to hatch. I was under the impression that everyone (including my four-year-old) knew that. This process continued over and over and required a lot of reading to move on to the next step; something that would definitely frustrate and deter non-reading players.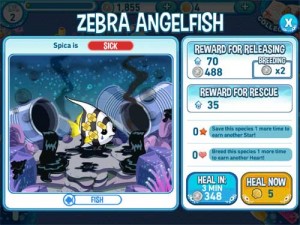 The bummer in this app is all of the pop-ups that annoyed me during regular game play. Everything from free games by the same developers to paid apps to packages of more coins and points that cost real money interrupted my conservation efforts every two or three minutes. Needless to say this really detracted from the game  and I chose not to download a single suggested program or buy any additional packages.
For the price (free) this game is a fun time-wasting distraction, but I played it for all of 20 minutes before I grew weary of the constant pop-up ads. However, I did spend another 20 minutes Googling online PhD degree programs.