If you are the parent of a toddler or pre-schooler, you are likely very familiar with the children's board book called 'Pat the Bunny'.

This classic story has been touted as 'Baby's first story' and is known as a pioneer in the child development community because of it's 'touch and feel' aspects.  Now, to the delight of little ones everywhere, Random House Digital has released a newly updated version of the hit title as an interactive storybook for iPhone and iPad.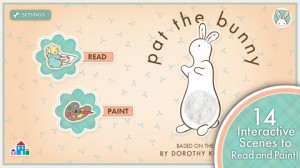 The 'Pat the Bunny' app is a classic story book turned interactive app based on the story by Dorothy Kunhardt. Led by the loveable bunny, kids will have the chance to play and explore 14 different scenes from the original book. Children will have the opportunity to play hide and seek with bunny and pop bubbles in the bath tub. If their iPad has a front facing camera, kids will even have the chance to see their own reflection in bunny's mirror!
The fun doesn't stop with the 14 interactive scenes though, as an exciting 'Paint Mode' transforms the entire app into a coloring book. In addition to the interactive story and coloring features, there are also endearing songs and delightful sound effects that make the story come to life.
The interactive story comes with three ways to read:
Watch and listen as words are highlighted while the text is read aloud
Turn off the narration and read at your own pace
Record your own voice to play on each page
The 'Record Your Own Voice' feature is an excellent opportunity for parents or loved ones to be able to read their child's favorite story to them, even when they are at work or far away.
This app is supported by iPhone/iTouch and iPad.
The 'Pat the Bunny' app is available via the Apple iTunes App Store for $4.99.