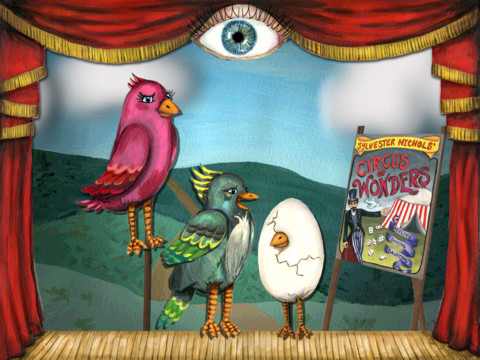 Whoever coined the term "running away with the circus" obviously had kids.  Because there are some days when the circus is quieter, cleaner, and less stressful than dinner time.  It would actually be a little bit of a vacation to hit the big top and walk a few tight ropes – forget the spa days or tropical island getaways.
When running away isn't an option there's always Puppet Masterpiece Theater.  It was a Kickstarter project that grew from a childhood puppet show into a full-fledged endeavor.  This app is part storybook, part game – but all circus.  The artwork is original and kitschy, with a true puppet theater look and feel.  Amazing circus music plays in the background and puts the finishing touches on setting the scene.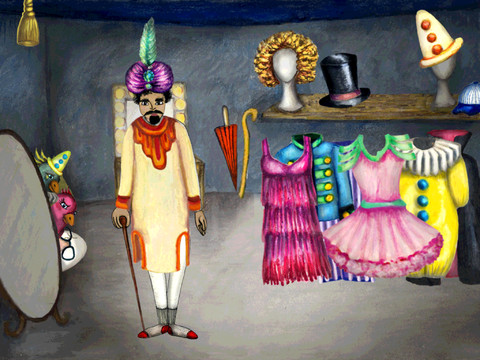 Basically (and I'm still a little fuzzy on the details – more about that later) a group of animal puppet friends try to find their octopus friend.  Turns out Ozzy (the octopus) was at the circus all along, trying to do something fun and adventurous.  Nine different mini-games move the story forward, helping to teach about friendship and encourage open-ended play.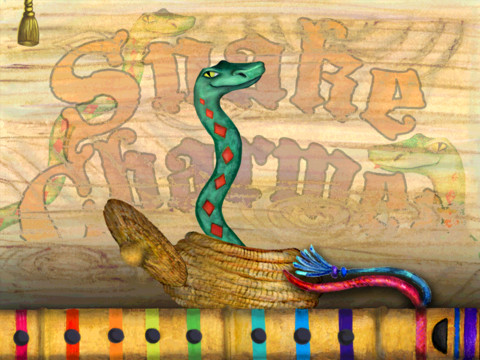 Now we get to the "later" part of the review.  Let me begin by saying that as an adult I can see what the developers of this app were intending to do but my kids totally missed the message.  My 3-year-old got frustrated the minute she couldn't "turn" the pages by swiping or tapping an arrow.  Her 5-year-old brother gave up when he kept playing a snake charming game and couldn't get out of the game.  We both thought the game would progress after he finished a few rounds but it didn't, and we ended up starting the whole game all over out of confusion.
The general aesthetic of this game is charming and the basic underlying message has real potential.  For a download price of $2.99 I would expect that my children would be able to breeze through the app with minimal help from me.  I can imagine that with some tweaking this would be a great app, but some technical and production glitches are keeping Puppet Masterpiece Theater from being All Star caliber.
Pros:
– Unique and cool artwork and original music
– Many different games and activities for open-ended play

Cons:
– User interface is confusing and hard to follow
– Games are difficult and often didn't work when played

Price: $2.99
Age: 4+
Run away with the circus playing this app!
Please help support iPadKids by downloading the game via the App Store icon below!