We've been giving you regular #5apps roundups for a few weeks now, but we wanted to add some cool websites into the mix.  As much as my kids use the iPad, my 6 year old son loves to learn about the computer – it was his first tech love before we introduced him to tablets.  My 4-year-old doesn't really know how to use a desktop computer or even a laptop; she has no dexterity to use the mouse without help and her fingerprints are all over my (non-touchscreen) laptop screen.
To encourage her to boost her computer fluency and get her excited about doing so, I've bookmarked a handful of sites that let her learn without frustration and remain engaged at the task at hand.  Here are 5 sites that are at the top of my bookmark list: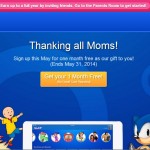 Kidoodle.TV – age-appropriate video streaming site includes age restrictions and time limit settings, with code-protected parental controls.  Kiddos can choose from popular and relatable kids' characters like Caillou and  Johnny Test, as well as "real-life" selections from National Geographic.  Videos can be streamed on the computer or download the app on your iOS or Android device for mobility.  Monthly subscription is $4.99 but if you sign up before the end of May you can get your first month free.  Refer friends to get up to a year of free service.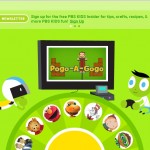 PBSKids.org – this was the first website my son visited, and still finds it fun today.  It's the companion site for your local PBS Kids channel as well as featuring content from premium channel Sprout.  The site offers young kiddos (up to age 8-ish) game and video content taken directly from the TV programming.  This particular site is just one of many that fall under the PBS umbrella, so if your kiddo has aged out of the PBS Kids demographic then check out one of the other PBS sites in the "Parents" section.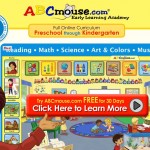 ABCMouse.com – if you watch kids' television channels, you've most likely seen a commercial for this subscription site.  We started using it after my oldest started falling behind in kindergarten and my youngest – who was 3 at the time – actually stayed engaged playing.  The site teaches pre- and early-reading skills, math and science fundamentals, and other tidbits that the 3-5 crowd needs in their toolbox before heading off to school.  It's so comprehensive and educational that it's been offered to public schools in US and Canada for free.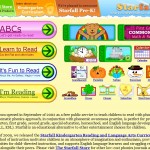 Starfall.com – this site was started over 12 years ago as a free resource for parents and educators.  It's heavy on the pre- and early-reading skills and embraces and teaches to the Common Core State Standards.  This means that kiddos who use the site will have skills that are aligned with what's currently being taught in schools.  there's no cost (it's not subscription based) but there is a paid premium version and educational material for sale in the site's store.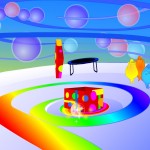 Boobah Zone – okay, there's nothing really educational about this – but it's tons of fun for very young computer users.  It's a Flash-based game that doesn't require a lot of dexterity or any reading skills, and designed in a way that will catch a preschooler's eye.  My youngest loves the open-ended play without time limits, points, or any kind of pop-ups or other distractions.
Does your preschooler have a favorite website?
Share in the comments below!