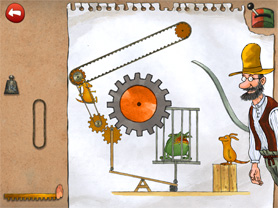 $1.99
Pettson's Inventions turns your kids into mechanical geniuses, with fun animations and a simple premise.
Age: 7+
Putting these inventions together is not easy. A young child might enjoy the animations at the end, but they'll have to be older to tackle it on their own.
Pros:
– Cute hand-drawn aesthetic
– Down to earth feel and low-key execution
– Fun animations and sounds
Cons:
– The inventions are not incredibly intuitive and it's possible for even an adult to get stuck
– You can't skip levels, so frustration can turn into game abandonment
Pettson's inventions is about a farmer with a mechanical mind. He has a ton of home-built inventions and he needs help putting them together. The premise is simple, but these inventions are wacky and force you to think outside of the box. If you don't think outside of the box in the right way… you can get stuck.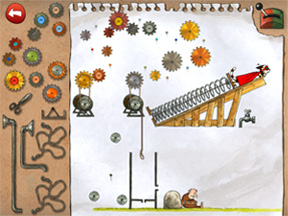 Navigation is very simple: You begin on stage 1 and you're provided with a selection of pieces that will complete the invention and accomplish the task set before you. You are given some hints, as cogs always go on studs, and windmill blades always go on windmills, etc. but not all the pieces are necessary for each puzzle, so you have to stay focused.
All of the puzzles are accomplished through simple drag and drop motions, and you can start the invention by clicking on the lever at the top of the screen. If the invention runs properly, Pettson himself will congratulate you and give you a cog that will be used in the final stage.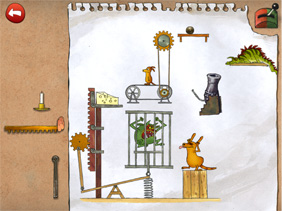 The illustrations and accent of Pettson himself have a nice down to earth Dutch / European quality to them. All of the inventions appear hand drawn on a piece of sketch paper and have really cute animations. This is likely best played WITH a young child, and while a slightly older child might enjoy it, it's unlikely to be flashy enough for them.
There are a few spots where you can become stuck, and with no hints or ways to bypass a level, that can cause some frustration. There are 25 inventions to put together, with various levels of complexity, so the game is long enough to justify the $1.99 price tag.
I'm neutral about this game. You might get a kick out of it and you might not. It's solidly OK. If you already own the game, tell us what you think about it in the comments!
If you get stuck, check out our Pettson's Inventions Walkthrough (spoilers!)
Details:
– 25 levels
– No in-app purchases