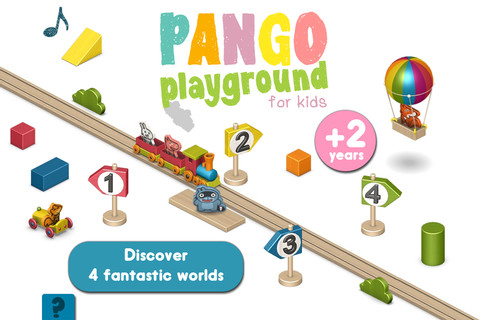 Our formal living room has been – temporarily – converted into the kids' playroom and every Thursday is cleaning day in the room that has been dubbed The Pit Of Doom. The idea is for my kids to go in and straighten up their stuff, strewn about the floor amid crumbs of cheese crackers and juicebox straws. Of course it never ends like that; on Thursdays you can usually find me buried up to my ears and grumbling under my breath.
There is no substitute for the imaginative play that comes with tangible toys, but Pango Playground is an app that certainly comes close (and doesn't require a trip into the Pit Of Doom. Four different scenes filled with an increasing number of toys – toy trains, "wooden" blocks, etc. – and offer tap-and-swipe play. There's no complicated instructions or time limits, no points to earn or levels to "fail".
The first scene offers a short wooden train track with trains, a handful of wooden blocks, and some small flat-looking wooden animals. With each tap the scene comes alive with the toot-toot of train and the honking of the car passing over the railroad crossing. Players can drag the pig to the hot-air balloon basket and watch it bounce up and down in the air, or tap the blocks to watch them turn into a swing set.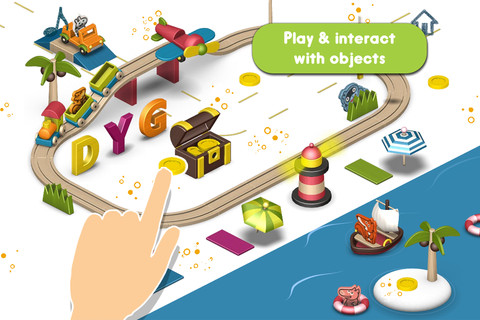 During a break from their weekly clean-up session both kids (2 and 5) sat together and played Pango Playground. They were delighted with the transforming virtual toys into better virtual toys, and my son told me that it was even better than playing on his train table. His younger sister was delighted with the wooden blocks in scene 4 that bloomed with flowers when the rainy clouds rolled through. When they were through with the iPad they went right into their playroom and started playing nicely together with their "real" toys.
I was delighted to see that Pango Playground brought out the imagination in my kids. As an app it was easy for both to play and fun to watch how their little minds interpreted the open-ended activities. At $1.99 it's fairly priced considering the amount of content in the game. And it makes Thursdays a lot easier.
Pros:
– No reading or complicated instructions to follow
– Open-ended levels helps foster imaginative play
– Tap-and-play user interface develops fine motor skills
Cons:
– None; this app is an all-around crowd-pleaser

Price: $1.99
Age: 2+
Imaginations will run wild playing Pango – the virtual playground
Please help support iPadKids by downloading the game via the App Store icon below!