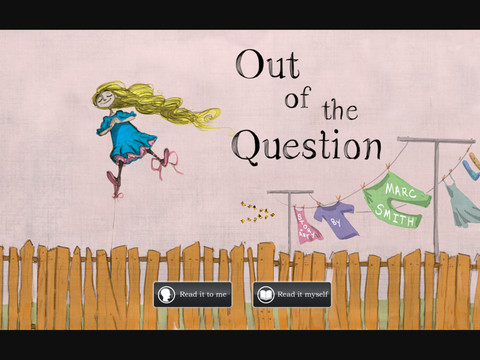 It's hard being different from your peers.  I was always a head taller than my classmates and a generally chubby kid.  Yeah, I was teased – but at the time other kids weren't nearly as mean as they can be these days.  My insecurities, however, prevented me from doing things like play sports or enroll in dance classes.  It was only when I got to college that I realized that the only thing stopping me from enjoying what I love is myself.
Out Of The Question is a lovely story about a very similar girl in a very similar situation.  Angelika is a young girl, a twin, born with a rare (fictional) condition that causes her to float like a helium-filled balloon.   She hovers above her sister Angelina and the girls' friends, watching them play and be "normal" while she stays tied up to avoid floating out into space.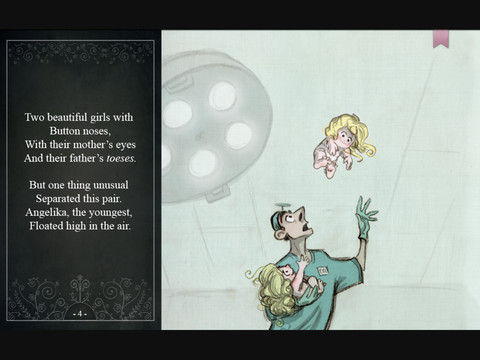 Angelika grows more depressed as each day goes by thinking that she'll never be able to do things that make her happy.  Without giving away too much, I'll just say that she learns what she believed were disadvantages actually turn out to be her saving graces.  After an adventurous family vacation she overcomes her fears and ends up making the most of what makes her different.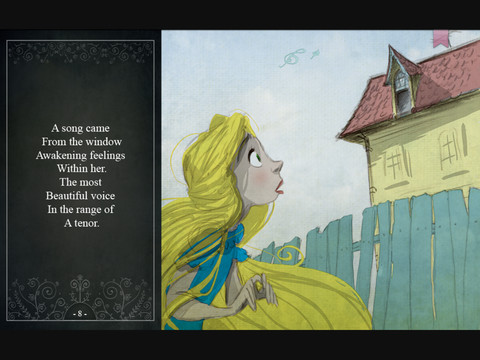 This is the most touching and lovely storybook app I've encountered in a while.  Illustrations are whimsical and painterly, strongly reminiscent of soft watercolors on thick, textured paper.  The story is written in lyrical prose with eloquent vocabulary.  Most impressive, though, is the subtle message that is so relevant and important given the current undertone of being a kid during present times.
I would highly recommend downloading this app if you have a little one (or a not-so-little one) that has expressed feelings of being sad or upset about being different.  It can help explain these feelings to children who aren't yet emotionally capable of understanding how to "make lemons into lemonade".  To many kids dealing with disabilities – either physical, mental, or otherwise – this app may just be a saving grace.
Pros:
– Lovely watercolor-style illustrations set the tone
– Storyline in prose develops literacy skills
– Underlying message of the "book" is encouraging
Cons:
– None; playing this app made us as happy as an ogre in a stinky swamp

Price: $3.99
Age: 7+
This lovely storybook app teaches that different isn't a bad thing
Please help support iPadKids by downloading the game via the App Store icon below!