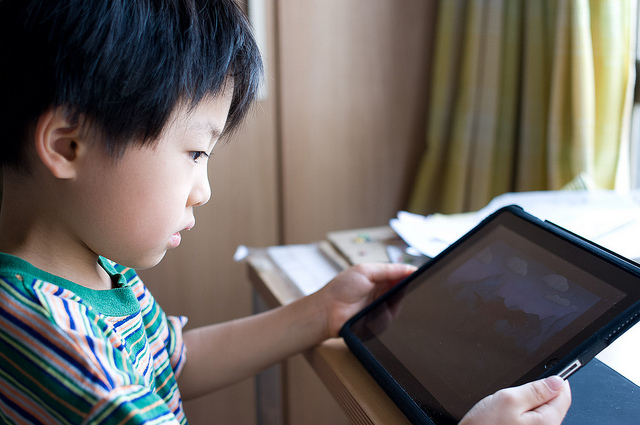 'Tis the season for highways, byways, flight passes, and passports and the last thing parents of an Autistic Spectrum Disorder (ASD) child wants to do is have a meltdown in the middle of a trip to see grandma.  We always make sure to tote a fifth passenger along, our iPad, to save us from any possible mishaps. We do have our moments when meltdowns are inevitable, but we have been able to use the iPad to divert attention elsewhere. While traveling, we use it for gaming, taking and viewing pictures, watching movies, writing, emailing, FaceTiming, reading, and tracking our journey.
Oh What Fun
Since our ASD friends are visual and thrive on schedules, the GPS apps are a superb way to teach them where the planned stops are and show them pictures of destinations. My lil' man is really into memorizing maps and street names. We love Google maps to show us where we're going, how long it will take, and, if my ASD boy is feeling overly organized, step-by-step directions we copy and paste into notes so he can track the highway signs as we go. Another app, FlightTrack by Mobiata, helps kids (and weary parents) track a plane's travel course from take-off to landing. The visuals help them see the travel path and how long it will take to land because they loved well-planned out courses!
Of course, we play Angry Birds, Bad Piggies, Where's my Perry, Temple Run Brave, and you name it on the iPad. Games keep my boys' attention for a bit, but we try and weave in some education, too. There are plenty of educational apps like Draw and Tell for $1.99 by Duck Duck Moose where kids can draw about their experience, then record their voice to tell a story about it. Another great app is Stack the States by Dan Russell-Pinson for $.99. Kids can learn the US states while playing a game to stack the states up. Some recent favorites of ours are the Toca Boca games. My sons like Toca Doctor, Toca Kitchen Monsters, and Toca Hair Dresser. In each of these, kiddoes can drag and drop items for, say, the kitchen monsters to eat. They can blend a carrot, cook it, and watch the monster's reaction.
Say Cheese
Pictures say a thousand words, right? We take pictures of destinations or our silly face-making selves, which is always fun. We play the "feelings face" game where we say an emotion, then make the face, and take a picture. Because ASD kiddoes are working on socializing, this is a great game to practice "happy," "sad," "scared," or "excited" expressions. A perfect app for traveling is Training Faces for $2.99 by Training with Gaming, Inc. It simulates a passenger on a train traveling to destinations around the world. Kids must match the specified emotion with the passenger's facial expression. Perfect scenario for traveling!
We've also watched many movies on the iPad with the Netflix app. It really is a life saver if you're in a place without kid- and family-friendly flicks.
Stay Connected
Connecting with others, wherever we go has become a huge priority. It drives everyone's daily routines now. People can email or text in an instant, see what their friends are up to, and call mom all from one, portable device; the iPad. We use it to keep family members informed of our travels or to send them the first family shot, ever, with everyone smiling in front of the Pacific. We email, text between Apple devices, and use FaceTime to have video phone calls.
If you're headed to a foreign land, the free Google Translate app is an excellent resource for translating. The kids might even pick up a second language if they pay attention to what's being read off that menu. They may even eat something, too. You can translate 64 languages through typing or speaking.
It doesn't take up much space, can address the inevitable "are we there yet?", and provide directions if dad won't stop to ask.  We now consider the iPad part of the family and wouldn't dream of leaving home without it!
Image credit: mitikusa