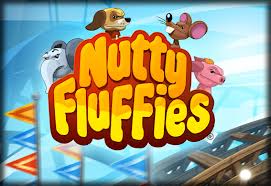 The last time I took my son to his pediatrician for a yearly check-up, I was thrilled to find that his height was at a solid 46″.  I wasn't excited because he could finally fit in a less complicated car seat or reach things on his own.  My enthusiasm was for the fact that I had a roller coaster partner, a job title that my husband has vehemently rejected.  Finally I had someone to drag onto the scariest rides at the theme park, someone with whom I could scream for 37 seconds while our stomachs flipped into our feet.  (When I word it that way, I can totally see why my husband stays behind, feet firmly planted on the ground.)
Nutty Fluffies is an app that takes the thrill of coasters and brings it to a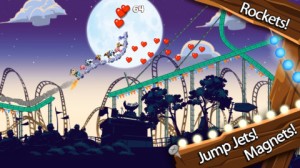 colorful, animated game featuring a mouse, dog, pig, elephant, and cat.  The goal is to ride coasters of increasing size and terrifying heights to collect hearts, earn coins, and build longer and scarier rides.
Playing the game was easy enough; swiping left controls the brakes on the coaster and swiping right accelerates forward motion.  Several hearts appear along the path of the ride and the more hearts that are collected the more coins are rewarded to fund the bigger, badder rides.  Passengers can be any combination of the above mentioned animals, and each has a different purpose.  Cats at the front of the ride add more hearts to the final score but cost 2 coins, mice are virtually useless but are free as seat fillers.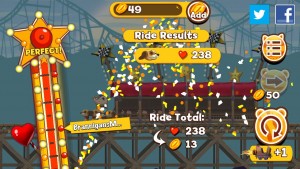 Unfortunately we didn't get very far playing the game because we need a ridiculous amount of coins, which were only
Bottom line:  This is a mindless app with fun visuals and you don't have to meet a minimum height requirement, but there are plenty of other free apps for download that are as good, if not better, at wasting time. available by playing the first level for hours straight, or by making a quite costly in-app purchase.  It makes me cringe to pay for an app in the first place (this one comes in at $0.99) but to then have to pump more money into the game to enjoy it is pretty maddening.
Pros:
– Fast-paced and fun
– Crazy sound effects and wacky, fluffy characters
– Easy and intuitive tap-and-swipe play

Cons:
– There are a ton of annoying in-app purchases, without which the game is difficult to play beyond a certain level
Details:
– Touch-based Gameplay
– Wacky Worlds of Wild Rides
– Meet the Nutty Fluffies
– Collect hearts with five unique animals

Price: $0.99
Age: 8+
While actual game play is easy for all ages, the object of the game will be lost on younger players.
Please help support iPadKids by downloading the game via the App Store icon below!