If you are like me (and probably 95% of Earth's parent population), you have at least one picky eater. I have two. If its too green, too squishy, too slimy, too seedy, to chewy, too orange, too crunchy, or any vegetable ever…they won't eat it. Having exhausted all options in an effort to get my children to consume enough real food to keep them healthy, I was please to see an app made especially for (and by!) picky children.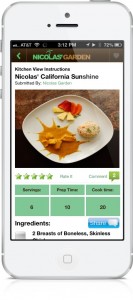 'Nicolas' Garden', an app that helps children make healthier food choices, was born when Nicolas Come's father suggested that Nicolas grow a vegetable garden in an effort to help him make better food choices in the face of his pickiness. Through this experience, Nicolas realized that he could help other children make healthier food choices, too!
This free app is basically a fun cookbook for kids that is chock full of recipies that kids can prepare by themselves or with the assistance of their parents. There is even an adorable grocery list and a 'Nicolas Approved' section for especially picky eaters. The app also includes the recipe for 'Nicolas California Sunshine' which Nicolas  hopes will be California's entry into Michelle Obama's White House Recipe Contest.
Of course, there are tons of kid's recipe apps in the app store, but we love this one because of its 'by picky kids, for picky kids' approach. There is also an app update in the making that will allow children to create their own recipes, which are then scored by the app based on how healthy they are. The score will change in real time based on healthy ingredients that are added.
Nicolas is also planning to add new videos of top California chefs preparing his favorite meals! It will be fun and exciting to see how the app develops in the future, while using it to help our picky kids in the meantime!
Click the Apple iTunes App Store button below to download 'Nicolas' Garden' for free!