Heads up, parents! Even though every app developer from here to Kalamazoo should know that massive in-app purchases should be avoided at all costs, especially when children are involved, but some just seem to turn a blind eye and continue to take advantage of children and their parents. The latest app to show up with an outrageous in app purchase is 'SpongeBob Moves In'. Shockingly enough, this is an official app Nickelodeon.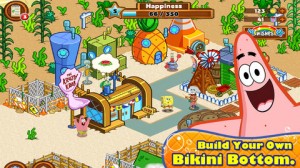 'SpongeBob Moves In' is an official Nickelodeon app that allows children to move SpongeBob into his pineapple home, get a job at the Krusty Krab, and proceed to build their very own Bikini Bottom town. Unfortunately, the currency used to play the game, jars of Jelly Fish Jelly, have to be purchased from the in-app store. While this is not unusual, the amounts of potential purchases are alarming! The most expensive purchase that could be accidentally made by wandering fingers reaches to nearly $100.00. That's a lot of Jelly Fish Jelly.
Although it is disappointing that yet another child-oriented company has chosen to go down the treacherous path of in-app purchasing, the app did manage to give a small warning about the in-app buying opportunities during the very first game play session. A window pops up stating: "Additional cool stuff can be purchased in SpongeBob Moves In! It'll be charged to your iTunes account. You can adjust your device setting to lock the ability to make In-App purchases!"
There is also a pretty substantial warning listed in the app store as well that states: "PLEASE NOTE: SpongeBob Moves In charges real money for additional in-app content. You may lock out the ability to purchase in-app content by adjusting your device's settings."
While there is an obvious effort to disclose the purchase opportunities (which is much more than we can say for a lot of IAP-based apps that we have seen),  it is still questionable as to whether these types of purchasing opportunities should be made available in child-marketed apps at all.
What do you think? Should purchases of this nature be allowed in child-marketed apps? Let us know in the comments below!