Featuring appearances by some of the most popular characters on the children's television channel Nick Jr, this educational drawing app will keep your young Picasso busy for hours.
Price: $3.99
Age: 3+

Younger players will love "scribbling" with their fingers and older artists will appreciate some of the more elaborate functions.

Pros:
– Several different options for children to flex their art muscle while developing color and shape recognition
– Coloring can be done using either fingers or stylus
– Artwork can be saved in gallery and shared via social network or e-mail

Cons:
– There may actually be an overwhelming number of different options, confusing children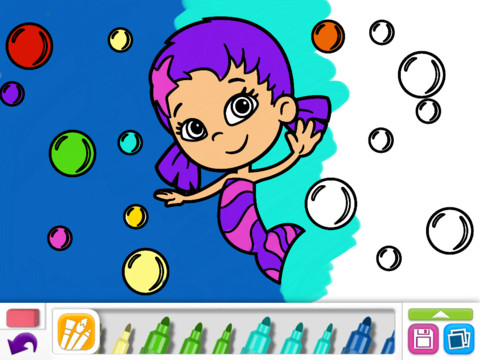 Nick Jr Draw & Play HD made my head spin. I spent 45 minutes with it and I still didn't scratch the surface!  I would be here for hours if I went into detail about every different option available in this educational drawing program. Nick Jr Draw & Play HD does not cut corners.
The short version: Children who love to draw on walls will really enjoy this virtual art class.  I could choose to start my masterpiece one of several ways, including a blank canvas, outlined coloring page, e-card, and a fully animated background picture, just to name a few options.  I then could color using one of many tools from the traditional marker to a crazy paint splatter with every color of the rainbow represented.
Characters from three Nick Jr shows regularly appear – Dora and her cousin Diego, the math whiz crew of Team Umizoomi, and the delightful sea creatures Bubble Guppies. Along the way, they taught me about shapes, colors, and textures, all while teaching me how to utilize the tools provided to create.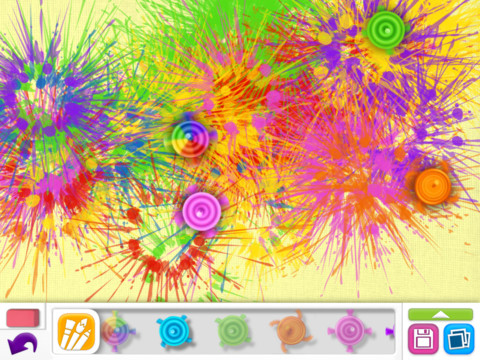 While I was never at a loss for ideas, there is an option indicated by a light bulb that would help keep a stalled imagination moving. I also created a tardy Valentine's Day e-card and e-mailed it to my husband who didn't appreciate it nearly as much as my kids did. I saved several of my works in the gallery for future sharing.
In my opinion, the most impressive feature of this app was the option for parents to create an account to track their child's progress within the app. This makes me feel good as a parent – I know that I could see concrete proof of my child's educational development, even when I'm not there to watch his every swipe and touch.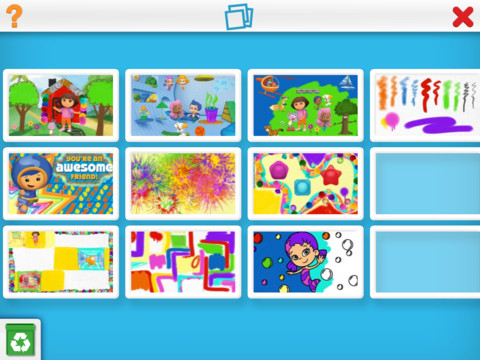 When my four-year-old son finally wrestled the iPad from me I was more than happy to take a break from the colors, textures, sounds, and animations.  I set the parental controls so that he wouldn't access anything he shouldn't (although I don't quite understand what he could see that would be age-inappropriate).  The voice-guided instructions helped him through some of the more complicated ideas – a bouncing ball that just bounces, for example – and he quickly got the hang of it.
However, after about 20 minutes of playing and drawing, he became overstimulated and frustrated by all of the different choices. I think that an older child with a strong artistic streak would focus a little better on fine-tuning their skills.  Over all this app is well worth the download price for all that it offers.
Details:
– Animated tutorials
– Parental controls
– Gallery for saving work and options to share via Twitter, Facebook, or e-mail
Please help support iPadKids by downloading the game via the AppStore icon below!