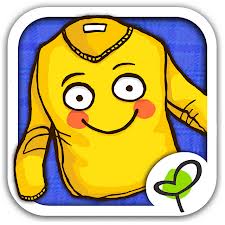 In a world where it is becoming increasingly important to teach our children about the consequences of waste and how to live a greener life, the developers at Gro Play are making lives a little easier. Their latest app, Gro Book, is an adorable story that teaches children the concepts of consumption and reuse. Starring Sophie, a cute little sweater who makes her way into a used clothing shop before embarking on an eco-adventure, this gem of a story is the perfect way to introduce young children to the idea that our resources are not infinite.
The most awesome thing about this app-story is that is has 24 different story lines that allow children to take control of the story's direction. While Sophie is feeling sad and abandoned on her hanger in the used clothing store, someone comes in and purchases her! From there, kids can take the proverbial reigns and decide where Sophie goes next and what she gets turned into. Some of the choices will lead her to be transformed into a vest, a pair of pants and even a bird's nest. The possible combinations are endless and they always keep the story fresh, new, and most importantly, exciting! There really is no better way to teach children about the importance of a sustainable lifestyle.
In addition to the 24 exciting story lines, this app is wonderfully narrated, contains over 100 hand drawn illustrations, and is completely kid friendly with absolutely no third-party ads or in-app purchasing capabilities. Here, you can view the Gro Book trailer and see for yourself just how amazing this app really is.
Gro Book, by developer Gro Play, is available for download via the Apple iTunes Apps Store button below for $2.99. It is supported by both iPhone/iTouch and iPad. This app requires iOS 4.3 or later and has been thoroughly optimized for iPhone 5.