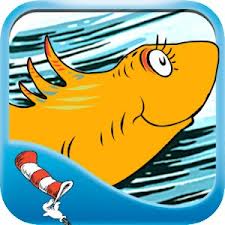 As a former Dr.Seuss enthusiast, my childhood is filled with memories of my parents reading books like 'Green Eggs and Ham' and 'Oh the Places You'll Go!' and, of course, getting to read them myself as I got older. Now that I have children of my  own, we share the same magical Dr.Seuss rhymes and poems together.
Naturally, when I saw this newly released Dr.Seuss storybook app called McElligot's Pool, I got really excited! Nothing beats fresh reading material to share with my kids, and I really hit the jackpot with this new Dr. Seuss story.
McElligot's Pool is a brand new Dr. Seuss storybook app from Oceanhouse Media. It begins with a youngster named Marco casting his fishing line into McElligot's Pool and his subsequent imagining of what he might catch.  Children can follow along as Marco's imagination takes him all over, finding wild and crazy creatures who do all sorts off incredible things!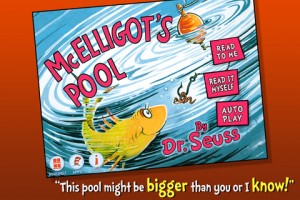 There are several ways to read this storybook! Reading features include:
Read to me – This feature allows the book to be read to children by a narrator or by the recorded voice of a parent or loved one.
Read to myself– This feature allows the app to function just like a physical book that older children can read to themselves.
Auto-Play- This feature plays the storybook like a movie, complete with self-turning pages and animations. The perfect feature for very young children who may not be able to operate the iPad effectively.
There is even a 'Share' feature that allows different recorded vocal readings of the story to be shared between anyone who owns the app. This feature could be especially useful for a grandparent or relative who wants to read the story to a child who lives far away.
'McElligot's Pool' is available for download via the Apple iTunes App Store button below for $4.99. This app is available for both iPhone/iTouch and iPad platforms.