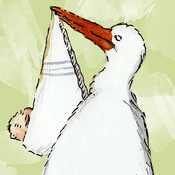 Brand new and straight from Finland comes a beautiful recordable storybook app called 'A Baby for the Storks'. Released by Makea Mobile, this cute-as-can-be story recounts the adventures of a family of storks who have just had a baby delivered to them and ironically become parents themselves. The tale of storks delivering babies has been around for ages but never like this. The 'A Baby for the Storks' app puts a funny spin on the old fashioned stork story that we all know and love. Aside from the delightful 33 pages of story and exquisite medieval-esque illustrations, this app has a ton of bonus features that you and your child will enjoy!
Animations- Not only are the illustrations beautiful, but they are animated too! You can expect to see storks taking flight right from the storybook page. Many of the animations are hidden and are a lot of fun to explore.
Interactive- On each page of the book, there are tap-able interactive surprises for children to discover.
Recordable- Whether you are away at work, on a business trip, or in the other room,your child can have you read this story to them over and over again with the recording feature! Simply press the button and read the story to record your voice. Nothing is better than having mom or dad read, but when you can't, this is an excellent alternative to traditional narration.
Multilingual- This story is available in English, Chinese, Russian and Finnish. Your child can listen to the story in their native language or listen to and learn it in a new language for a cultural experience.
Released on December 31st, 2012, Makea Mobile does a fabulous job at turning their 'A Baby for the Storks' story from a  traditional tale into a uniquely illustrated and fully interactive app with convenient features to boot!
'A Baby for the Storks' is available for download via the Apple iTunes App Store for only $0.99 and is supported on both iPhone and iPad platforms.